Single-family Detached Rental Housing in Alarming Downward Trend in Portland Metro
A study conducted by ECONorthwest examining the inventory of single-family detached homes in the tri-county Portland Metro region found an alarming downward trend from 2015-2022.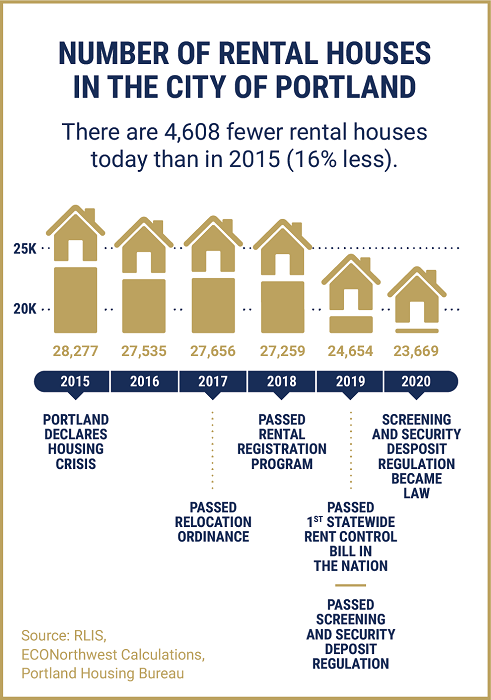 The problem: The City of Portland has been in a self-declared housing state of emergency since 2015, with many additional jurisdictions also declaring their own housing emergencies in the face of rapidly dwindling housing stocks and out of control inflation of the cost of housing.
Oregon's top elected leaders at the state, city and county levels have positioned themselves as housing advocates while supporting an array of policies that attempt to address the issue of housing instability brought on by a lack of housing supply. Due to the lack of coordination between state and local officials, and the absence of housing provider input in the development of such policies, Oregon now finds itself with a troublesome patchwork of different rules governing the creation and management of rental housing.
Since the passage of these various laws (see chart), there has been no public effort by officials to study their effectiveness to preserve, create or control the rising cost of housing. What has been widely reported across media channels is the continued dwindling supply of housing to never-before-seen lows and record high rents.
Why it matters: Multifamily NW asserts that the combination of an extremely prime housing sales market, and the punitive nature of Oregon's housing laws toward owners and operators of rental housing has led to this alarming trend found in ECONorthwest study.
In an effort to communicate to policymakers the need to collaborate on rental housing laws and evaluate their approach to rule making, we have conducted this study in partnership with Oregon Realtors Association.
Single-family detached homes are a critical piece of Oregon's rental housing stock. They are the most common naturally occurring market rate affordable rental housing with three or more bedrooms. These types of homes are highly suitable for families who need more space with children or multiple generations under one roof.
When many people refer to "workforce housing" they are referring to housing affordable to those making 60-80% off the median area income. Single-family detached rental housing in Oregon often falls into this category due to its price point. However, the sheer demand for housing in Oregon has increased the price of all housing considerably.
Housing needs analyses commonly show that this type of housing is by far the most desirable among renters, and often the hardest to find. Policymakers have also acknowledged its key role in the continuum of housing and have made it a state goal to preserve and grow this kind of housing stock.
Oregon's Regional Housing Needs Analysis executive report, prepared by Oregon Housing and Community Services, stressed the need for additional data on housing by unit type. This study gives valuable insight into the need for single-family detached rental housing and the impacts of Oregon's recent housing policy on inventory over time.
Single-family detached rental homes are also commonly owned by private housing providers, individuals, and families. They have used their personal resources to purchase and operate the rental housing as a way of creating stable income or investing in a retirement plan. These are independent owner operators who often live in the neighborhood or state.
Housing providers surveyed by rental housing provider associations have indicated that the patchwork of rules in Oregon has disincentivized the creation and preservation of rental housing, due to contradicting and confusing rules. In summary, it is simply not worth the legal liability to own and operate rental housing even when the demand is so strong.