Multifamily NW Foundation
Charity, Service & Empowerment
Raise A Glass & Give SWV
September 6, 2023 - Hayworth Vineyard
We are looking for Silent Auction items. To donate contact Kristen@multifamilynw.org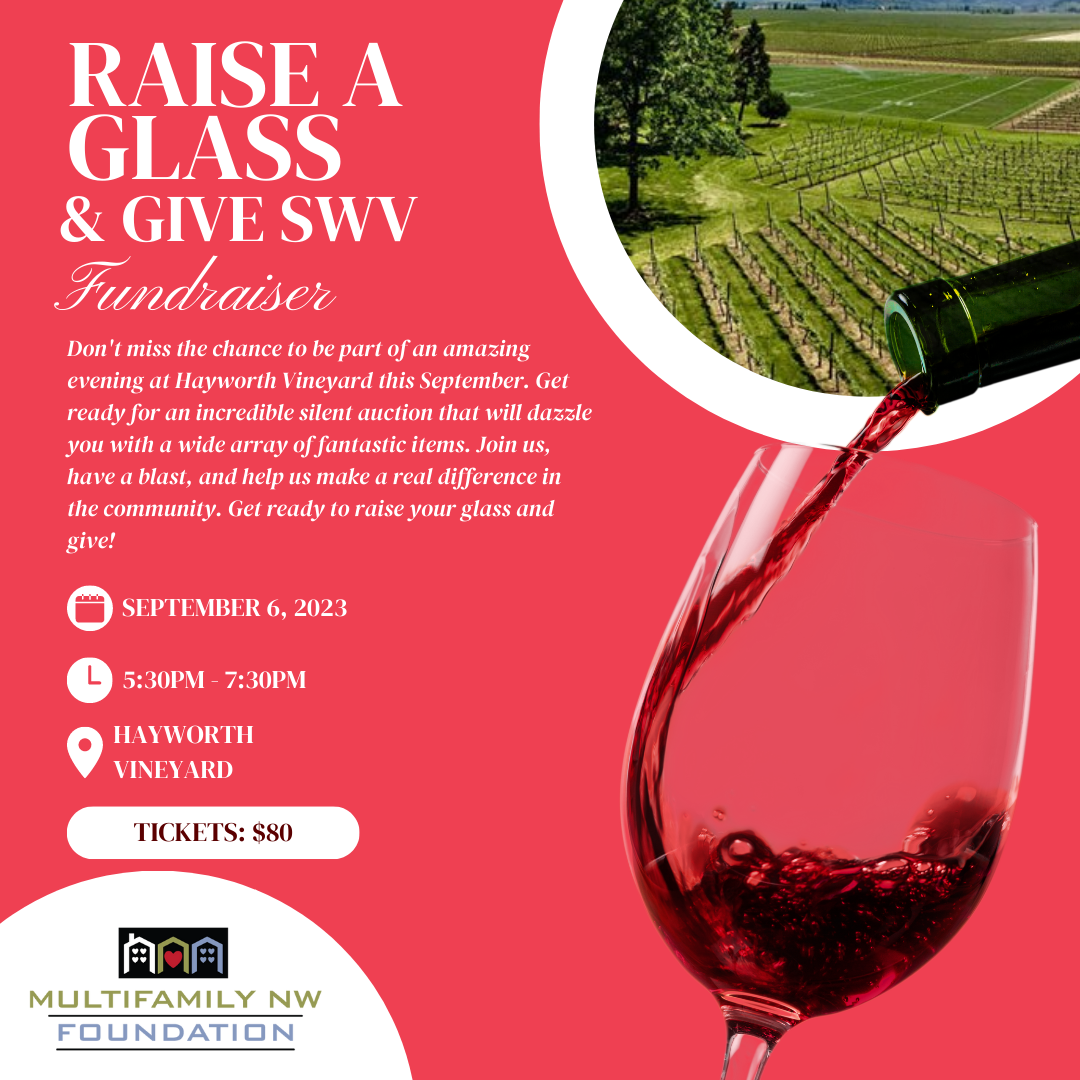 Silent Auction Items
Hayworth Estate Wines Club Membership & Basket
Blackstone Grill from PG Long
Lunch with Leaders - Jennings Group Leadership Team
Lunch with Leaders - Sterling Management Group Leadership
Lunch with Leaders - Multifamily NW Executive Board:

Josh Lloyd, Wood Residential
Andie Smith, Holland Residential
Tiffany Wallace, Cushman & Wakefield
Chris Hermanski, Mainlander Property Management
Renee Larsen, Capital Property Management

Gallons of Paint from:

Forrest Paint
Miller Paint

More to come...
Want to donate? Contact kristen@multifamilynw.org
---
---
Mission Statement for the Multifamily NW Foundation:
As the philanthropic body of Multifamily NW, we champion charitable organizations, create service opportunities, and promote educational programs supporting our community.
As the recently established philanthropic body of Multifamily NW, we are collectively dedicated to providing help and hope to individuals, groups and causes. Our mission aligns with efforts to champion charitable organizations, create service opportunities and promote education programs supporting our community.
Our History...
For more than 25 years, Multifamily NW and its members have supported numerous charitable organizations and causes serving vulnerable populations and promoting professional development. In that spirit, the Association established the Multifamily NW Foundation in late 2020, a non-profit 501(c)3, governed by a dedicated board of directors.
Our Foundation is Driven by Donations
Will you help us?
In the spirit of working together to establish a formidable foundation of giving and support, we are kindly asking our members and other community leaders to help us in these efforts. With a solid base of donation dollars the Foundation can and will provide hope, security, and support to so many in need. Won't you please consider joining our efforts with your support and contribution today?
What we build together is ultimately what we give together!
REBUILDING TOGETHER NATIONAL DAY OF SERVICE - Saturday, April 30, 2022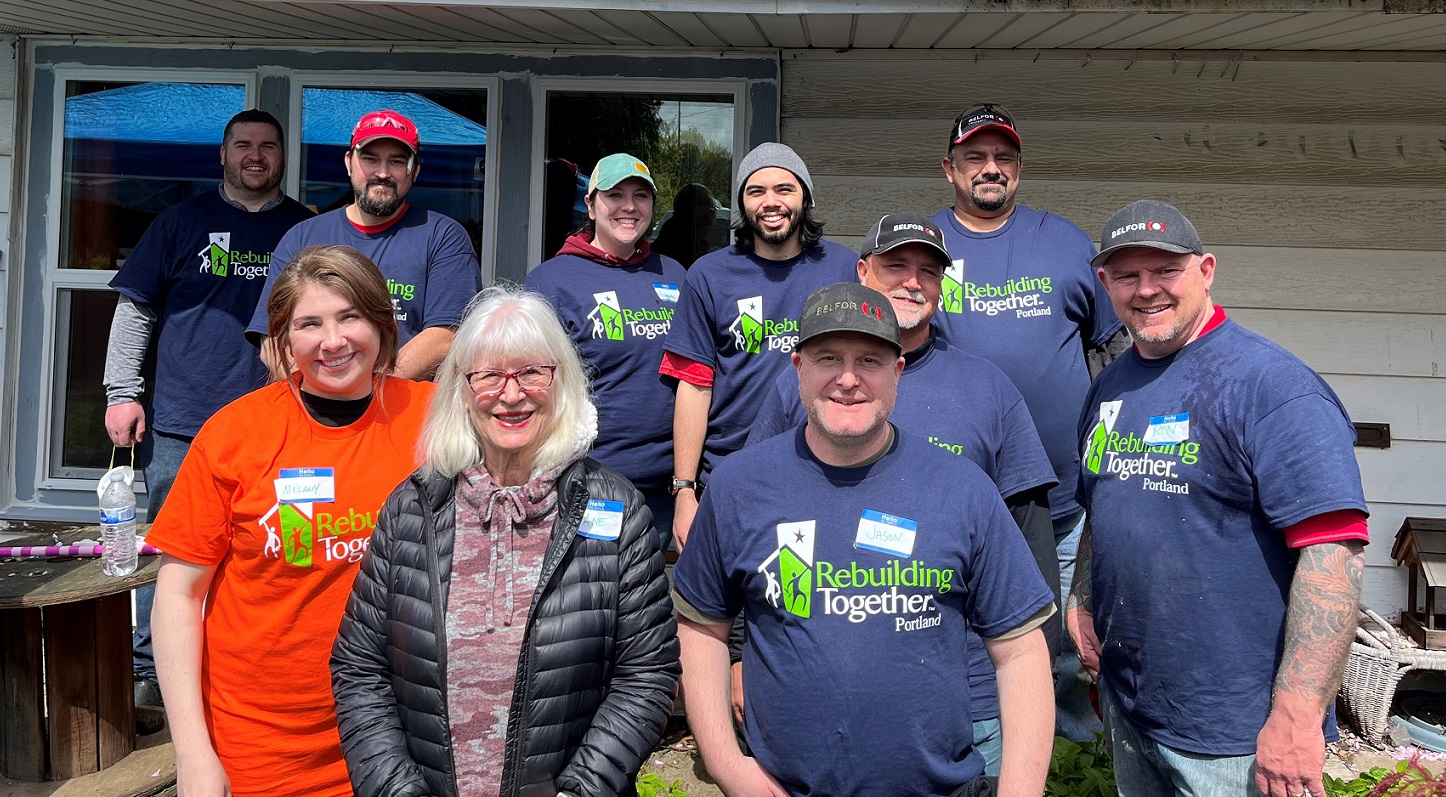 For years Multifamily NW members have been one of the largest groups participating in the annual Rebuilding Together Day. Once again, the annual Rebuilding Together day of service took place on the last Saturday in April, Saturday, April 30. Dozens of needy Portland area homes were selected by Rebuilding Together for critical repairs and refurbishment. Multifamily NW members sponsored five homes this year, each with a volunteer team supplying all materials and labor – accomplishing an amazing amount of structural and safety repairs! Examples from our Rebuilding Together teams included remodeled bathrooms for ADA access, replaced sagging roofs from water intrusion, installed ADA ramps to entrances, removed waste and refuge, landscaped yards, replaced windows and doors, and painted interior and exteriors.
These fire-life-safety repairs of Rebuilding Together keep vulnerable folks in their homes, investing in their asset and the neighborhood. A massive thank you to the Multifamily NW Service Committee for organizing, and to our member volunteers including Greystar, Belfor Property Restoration, Guardian Real Estate Services, J.R. Johnson and PG Long! Your commitment of time, labor and resources ensured this day was more successful than we could have imagined.
Click on the images below to view larger size!
Multifamily NW volunteers share the goals of Rebuilding Together, helping low-income Portland homeowners remain in their safe, secure, and independent environment for years to come. Check out images below from previous Rebuilding Together Days of Service (2015-2019).
Previous Multifamily NW Foundation Projects
2nd Annual Food Drive Supporting Innovative Housing Inc.
In the Fall of 2021, with funding for food pantries being cut, we partnered with Innovative Housing to reach low income residents during the holiday season. We collected food and donations raising over $8000! We provided Christmas dinners to 100 families in need, in addition to providing staples to the food pantry.
Innovative Housing, Inc. is a 501(c)(3) nonprofit that provides high-quality affordable housing to individuals and families, along with services to help our residents maintain their housing, access opportunities, and break the cycle of poverty.
MFNW Announces 2021 Charity Programs
The MFNW Foundation Board recently designated two impactful charities to support for 2021: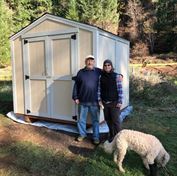 Sheds of Hope began as a recovery response from the Holiday Farm Fire that tore through parts of the Southern Willamette Valley in 2020. A Shed of Hope can be their first structure, reclaiming their property. It can be their first set of keys, a place to store their tools, or simply a shelter from the rain as they rebuild their lives. Sheds of Hope are a first step on the journey to rebuilding.

The Bybee Lakes Hope Center (BLHC) transforms the never-occupied, 155,000 square foot Wapato Corrections Facility into a trauma-informed, data-driven transitional housing facility to support Multnomah County community members experiencing homelessness.
Multifamily NW Foundation Rounded 2020 with Three Successful Charity Projects!
During December last year the MFNW Foundation coordinated Project Care benefiting the Boys and Girls Aid and Janus Youth Programs in the Portland area. Multifamily NW members raised $3,000 for Project Care! In the Eugene area, the MFNW Foundation coordinated with the Multifamily NW Southern Willamette Valley Council who single-handedly raised $2,250 for the Adopt-A-Family charity. The MFNW Foundation also ran a Holiday Food Drive in December that raised $8,500 to feed needy families across Oregon! Thank you to all members who donated their time and resources and gave us some good news to close out a very challenging year. The MFNW Foundation is gearing up for 2021 with new opportunities for members and the general public to engage and give back to our community! Stay tuned in for more information coming soon.
PROJECT CARE
ADOPT-A-FAMILY
HOLIDAY FOOD DRIVE

For many years, Project Care has provided gifts and needed goods for the White Shield Center. With the closing of the shelter this summer, the Service Committee has found two local charities to support this year! We're very excited to partner with Boys and Girls Aid and Janus Youth Programs. Project Care will be providing holiday presents for the children living in Harry's Mother Shelter, Transitional Living Shelter and Seneca House. Additional funds will be used to provide goods for the ongoing operations of the shelters including linens, towels, personal care items and more.

Project Care is an annual opportunity to give back to the community while creating special memories for the children we support.

Questions? Contact projectcare@mfnwfoundation.org.

Join the Multifamily NW SWV Service Committee and the Multifamily NW Foundation in supporting our great partners for the annual Adopt-A-Family program in the Southern Willamette Valley!

Each year, the SWV Service Committee works with local community partners to help provide holiday joy for families in need. The goal is to raise at least $500 for each family we support. Your tax-deductible donation will help create something special for local families in need.

Please join us supporting the Eugene Mission, WomenSpace, Relief Nursery, Great Days Early Education Center & Looking Glass Community Services.

Questions? Contact swv@mfnwfoundation.org.

The Multifamily NW Foundation is sponsoring the Holiday Food Drive Through December 19, 2020!

What We Need:

Juice & Drink Mix, Peanut Butter, Pantry Goods, Tomato/Pasta Sauce, Hot or Cold Cereals, Canned Fruits, Rice, Pasta and Beans, Canned Vegetables.