On Wednesday, March 7th, 2018 Portland City Council again changed the relocation ordinance language, making the rule permanent and removing the 1-unit exemption. Several additional narrow-circumstance exemptions were added. The changes were passed with an Emergency Clause, taking effect immediately.
Click here for a synopsis of the latest changes
.
---
As referenced in the linked synopsis of latest changes, the Portland Housing Bureau published several documents pertaining to the ordinance and the application for the ordinance exemptions:
---
Since its passing on February 2nd, 2017, Portland's Relocation Assistance ordinance has been tweaked several times, adding more confusion to an already poorly crafted and swiftly passed law. The ordinance mandates payments from the landlord to the tenant when either an End of Tenancy notice is served, or an increase notice of 10% or higher is served, and the tenant then elects to move.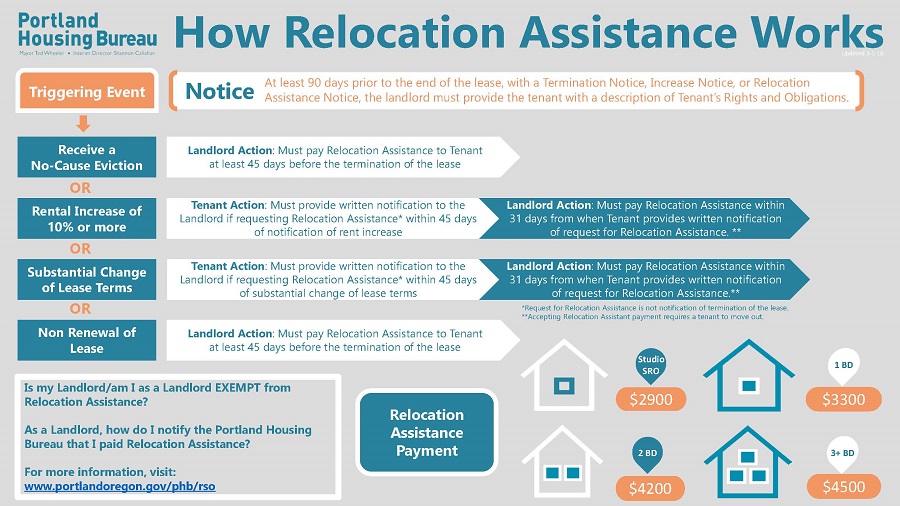 Relocation Assistance is triggered by the following two scenarios:


If the landlord serves the tenant an End of Tenancy Without Stated Cause Termination notice or
If the landlord serves the tenant a Rent or Associated Housing Costs Increase notice, and the amount of the increase is 10% or higher within the last 12 months, and the tenant then requests the Relocation Assistance within the first 45 days of the increase notice period.
---
Relocation Assistance is awarded as follows:
$2,900 – Studio or SRO (Single Room Occupancy)
$3,300 – One Bedroom Dwelling Unit
$4,200 – Two Bedroom Dwelling Unit
$4,500 – Three Bedroom or larger Dwelling Unit
The End of Tenancy Termination notice period must be at least 90 days. The Relocation Assistance is due to the tenant no less than 45 days prior to the termination date. A landlord that tries to enforce the end date of a fixed-term lease or non-renewal of a tenancy is subject to pay the Relocation Assistance.
Regarding rent increases, the tenant now can submit their "request for relocation assistance" within the first 45 days of the rent increase notice period. The landlord is then obligated to pay the relocation assistance within 31 calendar days of receiving the tenant's request.
---
After the tenant receives the relocation assistance, the tenant has six months from the effective date of the rental increase to either:


Pay back the relocation assistance and remain in the dwelling unit (paying raised rent amount)
Provide landlord with notice to terminate the rental agreement
A landlord that conditions a lease renewal on a rent increase of 10% or more in a 12-month period is subject to pay the Relocation Assistance.