Engage with Multifamily NW
Date posted
January 27, 2021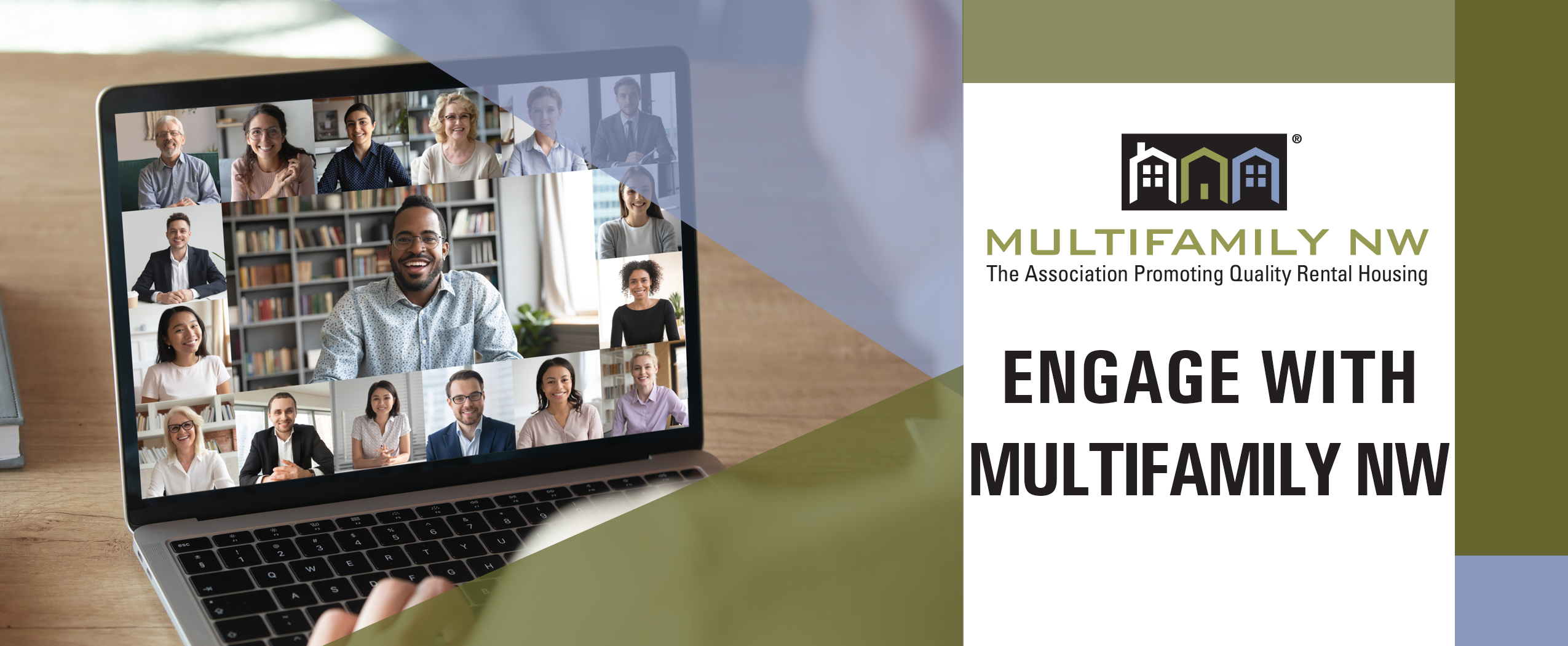 Engagement may look a little different now, but there are still great opportunities to connect with members, promote your brand, and inspire new partnerships through Multifamily NW. As we move through the year, new opportunities will arise so make sure you are on the MFNW email lists to see all the latest.
---
Class Sponsorship - $250 each
Take advantage of sponsoring a class. Come where your clients, and potential clients, already are. MFNW education classes happen every week and there is a topic for everyone! Want to reach Managers? There's a class for that. Leasing Agents? We got that too. Maintenance? Yep, we've got that covered. So what are you waiting for?
Each class sponsorship includes:
Logo on all marketing material and class page
Link to sponsor's page included on class page and in marketing emails
3 tickets to webinar to attend or be a panelist for promo intro before the class (limit 3 minutes)
Poll option during promo intro for targeted marketing
Attendee list for follow up
Check out the upcoming classes 
Interested? Email events@multifamilynw.org to secure your spot today. 
---
Apartment Report Virtual Panel Sponsorship - $2500 each (category exclusive)
The Apartment Report Panel is back this Spring with a virtual presentation from an esteemed group of experts. 5-6 speakers will present on important topics including: economic forecast, legislative updates, apartment valuation, property management perspective on COVID impacts, and more.
Each sponsorship includes: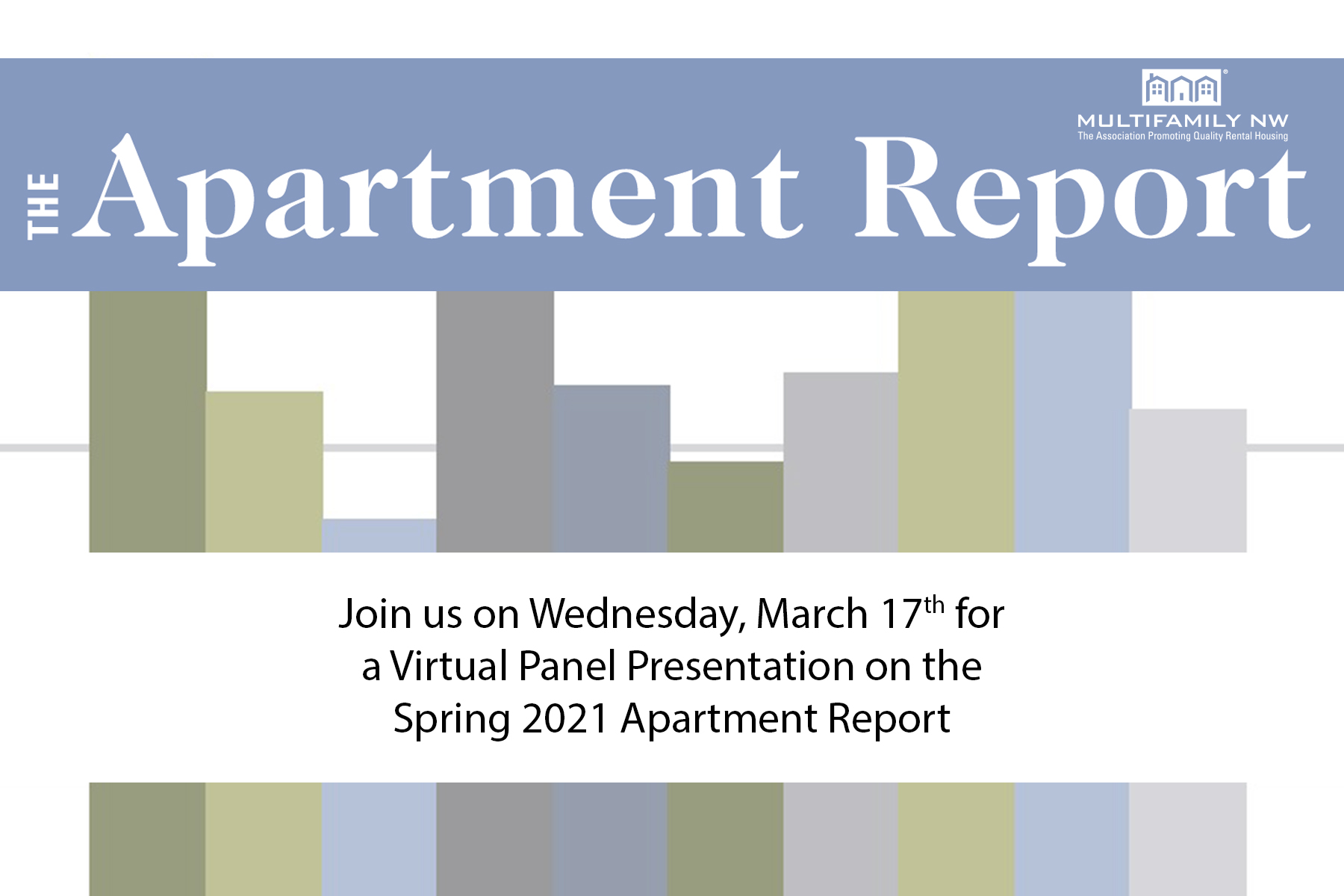 Logo on all marketing material and event page
20 tickets to attend the panel and/or distribute to clients
Logo on sponsor reel before presentation
Recognition by MC during presentation
Copy of attendee list/contact info
and for the first time ever:
Sponsor logo included on the Apartment Report publication
Spots are limited, first-come, first-served. Email kristen@multifamilynw.org to secure your spot.
---
Fair Housing Fair Sponsorship
April is Fair Housing month and the Fair Housing Fair is back this year with a one-day virtual education conference on Tuesday, April 13th. The Fair Housing Fair is an opportunity to support Fair Housing education that is vital to the industry and a cornerstone of training for Property Managers.
The virtual conference will have sponsorship opportunities including:
Class Sponsorship - $100 each
Event App Sponsorship - $500 each
Marketplace Listings - $150 featured, $75 regular
Details and registration coming soon. Don't miss this oppportunity to support Fair Housing! Email events@multifamilynw.org for more info. 
---
Unwind Series
We are continuing our after hours Unwind series virtually for 2021 with 1 or 2 opportunities per month to sponsor a fun activity. Sponsors are encouraged to pick the activity and/or partner with other companies or local partners to supply materials and swag to attendees. These sessions have had rave reviews from attendees - so get in on the action. 
Email ericka@multifamilynw.org with your ideas and to secure your spot!
---
Sponsored Blog Posts
The MFNW blog is a great way to get your message out to our membership and promote a product or service that is beneficial to the industry. We allow up to 3 sponsored blog posts per month and each post will be featured on our homepage carousel for at least 1 week to generate extra readership and reach. Blog posts start at $150 each and can be customized to your needs.
Interested? Connect with jonathan@multifamilynw.org to discuss opportunities. 
---
Use your credits!
Do you have credits from 2020? Use them on any of the above sponsorship opportunities for 2021. 
Credits can also be used for:
annual dues
Defense Fund donations to support advocacy efforts
MFNW Foundation donations to support 2021 charitable programs
Contact accounting@multifamilynw.org to inquire about credits and use them. 
---