Fall 2018 Apartment Report Breakfast
Date posted
October 17, 2018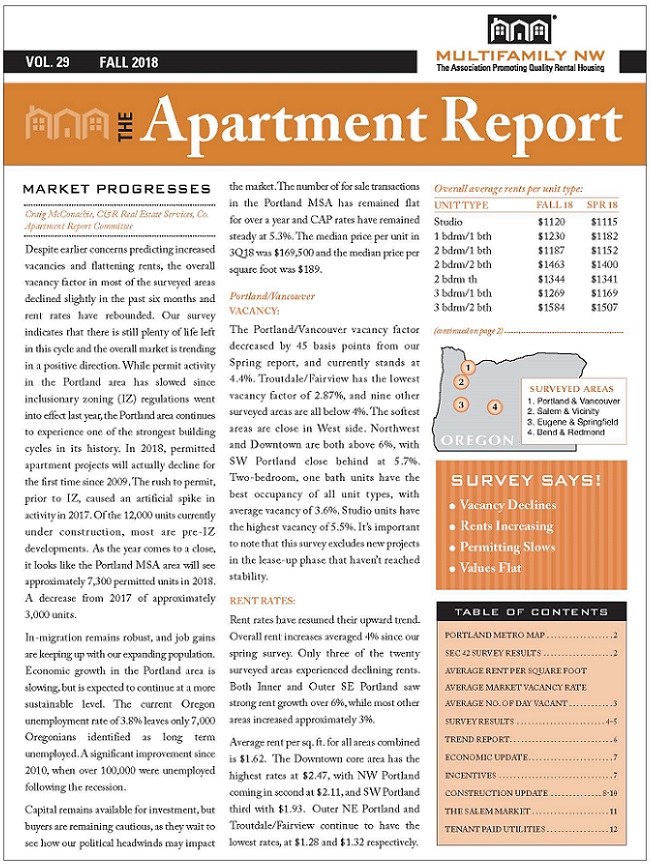 On Wednesday, October 17th the Fall 2018 Apartment Report from Multifamily NW debuted at the sold-out Apartment Report Breakfast at the Oregon Convention Center. Our largest capacity crowd ever was greeted by our esteemed panel of speakers who highlighted the report's latest rent and vacancy figures and addressed many timely industry topics. The panel gave insight into property acquisitions and refurbishment in this market and various local economic drivers to housing and development. The panel also explained (or attempted to) the confusing proposals from the city of Portland on applicant screening and security deposits. Attendees also got to hear from Loretta Smith who is running for the open seat on Portland City Council. Lastly, Multifamily NW welcomed two housing association directors from San Francisco give a history on rent control, their current fight against Prop 10 in California and lessons are market can learn in the coming months.
Fall 2018 Speakers Panel:
Mr. Adam Seidman, The Concord Group
Submarkets of economic drivers
Mr. Farhan Mahmood, Trion Group
Acquisitions from a new to this market perspective
Ms. Leah Sykes, Attorney, GreenspoonMarder, LLP
Update of City of Portland regulations
Ms. Loretta Smith, Candidate for Portland City Council
Local politics & her candidacy
Ms. Janan New, Director of San Francisco Apartment Association
Mr. Brook Turner, Director of Coalition for Better Housing
rent control history and SF unreinforced masonry building rules
Ms. Liz Tilbury, Tilbury Ferguson Investment Real Estate
Master of Ceremonies

Thank you to our sponsors Lifetime Exteriors, Marcus & Millichap and Northwest Bank for supporting the Apartment Report Breakfast, and thank you to every management company and property who participated in the last Apartment Report Survey that allows us to deliver this much utilized and anticipated biannual Apartment Report.
Download or Purchase Fall 2018 Apartment Report