Fall 2020 Apartment Report from Multifamily NW
Date posted
October 23, 2020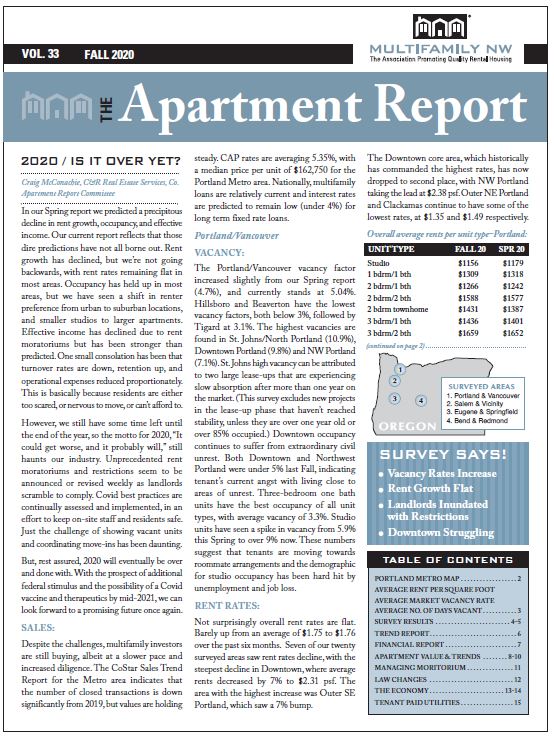 It's here! We're thrilled to offer a robust Fall 2020 Apartment Report with six accompanying articles covering the latest rent and vacancy figures, an economic rundown, a tally and primer on the many different rules and regulations recently enacted, COVID-19 operational impacts for housing providers, an overview of commercial lending and a detailed status of current apartment values.
Due to the COVID-19 pandemic, regrettably it was not possible to debut the report with the usual fanfare inviting 700+ attendees to the Oregon Convention Center for the biannual Apartment Report Breakfast. The Apartment Report Advisory Committee looks forward to 2021 and planning an opportunity to gather again once more!
Thank you to all participating companies and properties in the Apartment Report Survey and especially to our article contributors that created a well-rounded snapshot of the multifamily apartment market in the midst of an unprecedented pandemic, with its many challenges.
Members may click below for instant access - just be sure to sign into the website with your member credentials to authenticate yourself. For non-members the purchase link is also below. Questions? Contact the Multifamily NW office at info@multifamilynw.org.