Fall 2022 Apartment Report from Multifamily NW
Date posted
October 18, 2022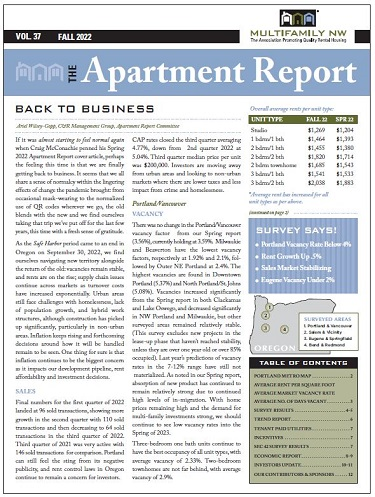 The Fall 2022 Apartment Report debuted Tuesday, October 18th at the SOLD OUT in-person Fall 2022 Apartment Report Breakfast at the Oregon Convention Center! The Fall 2022 Apartment Report offers the most up-to-date rent and vacancy data for our market. The numbers are accompanied by three articles covering analysis of the data, an economic forecast, and assessments of market fundamentals.

Thank you to all participating companies and properties in the Fall 2022 Apartment Report Survey and especially to our article contributors that created a well-rounded snapshot of the multifamily apartment market. The report's data is explained and summarized by the lead article written by Ariel Wilsy-Gopp of C&R Management Group. State of Oregon Economist Josh Lehner wrote an article on current economic impacts to the industry and Robert Black of Newmark Group and Liz Tilbury of Tilbury Ferguson Investment contributed an insightful article on brokers' perspective for multifamily properties.

The Breakfast Speaker Panel featured presentations from Jerry Johnson, Principal at Johnson Economics, Sarah Zahn, Chief Operating Officer, Urban Development Partners, Patrick O. Barry, State Certified General Appraiser, Barry & Associates, Thomas Marcus, National Production Manager at Sabal Capital Partners, Andie Smith, Regional Property Manager, Holland Residential and Marcel Gesmundo, Founder & Partner at Andor Law Firm. The Panel was moderated by Josh Lloyd, Senior Vice President, Wood Partners.

Fall 2022 Speaker Panel Presentations

Economic Update - Jerry Johnson
Multifamily Development Update - Sarah Zahn
Construction & Values Update - Patrick O. Barry
Capital Markets Update - Thomas Marcus
Apartment Expenses & Hiring Update - Andie Smith
Regulatory Update - Marcel Gesmundo
Thank you to the Fall 2022 Apartment Report Sponsors: