January 2022 Rent Survey Results
Date posted
February 4, 2022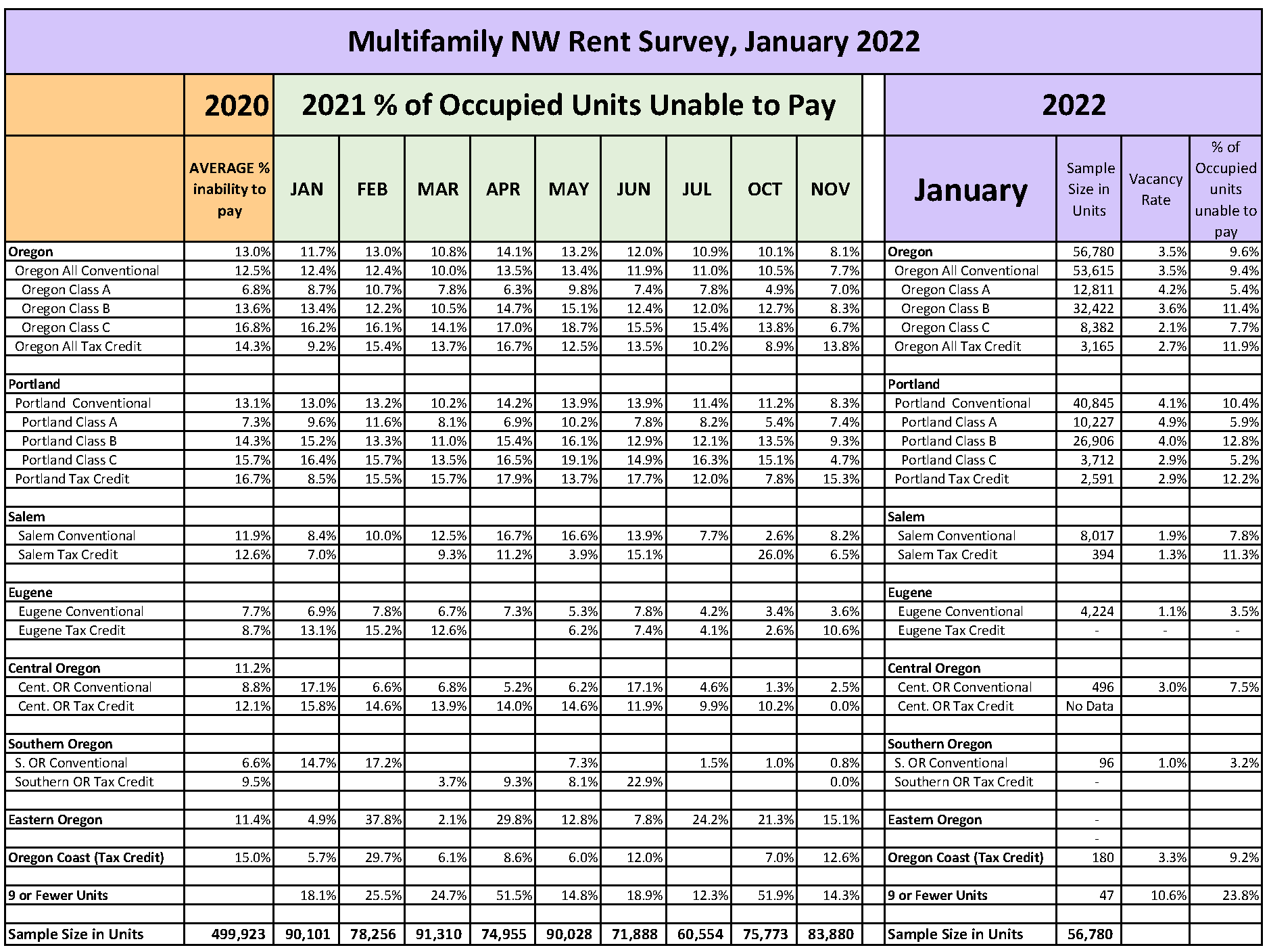 Once again Multifamily NW collaborated with a broad group of housing professionals (management companies, private managers, housing authorities, nonprofits, and state agencies) to collect surveys of conventional and affordable rental housing to track trends in ability to pay rent in occupied units across Oregon.
We did not survey in December due to the holidays. January is a busy month for Property Managers, and this was reflected in a lower number of survey responses. Non-payment in January tends to be skewed by non-Covid related trends, due to holiday spending, and households awaiting tax refunds. In general, patterns of rent payment have been altered by Oregon legislation, with tenant rent payments continuing throughout the month and arrival of rent assistance being unpredictable. The survey collects data as of the 15th.
Summary Chart
The January chart contains data from 2020, 2021 and 2022. Total units surveyed is represented across the bottom row, to track changes in sample size.
2020, with an orange header, represents the average inability to pay for the 7 months surveyed, May through November.
2021, with a green header, represents inability to pay for each of the nine months surveyed, rather than an average. The intent is to depict the trends.
January 2022, with a purple header, shows sample size, vacancy rate, and ability to pay for geographic areas reporting. The sample size was approximately 23,000 lower than the average survey in 2021. No data for Eastern Oregon was received.
Key findings for January:
On average, 9.6% of Oregon households did not pay their rent by the 15th of the month, which represents a moderate worsening since November, with the total was 8.1%,
Statewide, Affordable Tax Credit units improved from 13.8% inability to pay in November 2021 to 11.9% in January of 2022. As only 3,165 Tax Credit units responded in January, we are hoping to increase survey response in February.
The most unexpected result in the survey was from the data collected on properties identified as "Class C". Throughout the moratorium, this housing type experienced more housing instability than the other housing types, but in both November and January, they reported a dramatic improvement, with comparatively fewer renters struggling with rent compared to those living in Class "B" apartments.
"Quartiles": the following chart represents the survey responses sorted by most impacted to least impacted, then divided evenly by number of units into quartiles. The purpose is to capture how evenly payment issues are spread across the data set.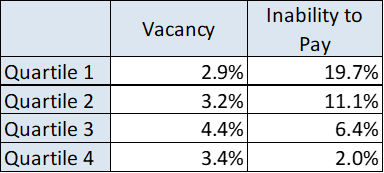 The data suggests that inability to pay is highly concentrated in 25% of the units (Quartile 1), while Quartile 4 showing virtually no impact.
Comments
We currently have 15 residents who have applied for rental assistance and waiting on funds and/or approval.
We are all experiencing delays in rental assistance payments. Updates while in process would be very helpful.
There are residents who have yet to receive their rental assistance checks but are paying the current months' rent. Assistance checks are coming in at a faster rate.
The application process is frustrating, owners are simply told the forthcoming rent is "pending" and there is no way to get an indication when it will be deposited to our account. We have also received rent for 6-12 months in arrears and rent for future months, which has been an accounting nightmare. The website OHCS help assistant tool does not work consistently.
Seems to me some tenants who can pay, simply choose not to pay and expect the state to pay for them. Also, such tenants may be sub-renting the apt to friends and collect payments from them, while owners not knowing anything about this activity.
Renters are more likely to treat paying rent as a lower priority than they used to, even when they can pay.
Rental assistance seems to be coming in a little quicker now. It also seems that we have fewer people needing rental assistance.
Rental assistance has been fantastic and many of our residents who apply get approved funding. It's the few residents who have not applied for rental assistance and have not made an attempt to pay.
Overall, it continues to be the same residents who have struggled during the entire pandemic.
Our studios are in high demand these days and are vacant for a very short period of time, generally only the length of the turn service.
Lots of rental assistance money came in at the end of the year.
It's been challenging due to wait of approval of rental assistance. The whole process takes up to 3 months to receive payment. Which impacts our cashflow and DCR (Debt Coverage Ratio), as those 3 months we accrue more nonpayment. Making it a non-ending cycle of applying for rental assistance.
It will be almost two years since these tenants have paid rent. Thankfully the state came through with assistance for landlords. Hopefully the tenants will qualify for the next round of assistance.
I am glad the OERAP portal will open again on 1/26 for new applicants. There is definitely still a need for rental assistance and we are thankful for the payments we have received from OERAP so far. It is worrisome that there is still such a need for rent assistance, and many residents that still need assistance have been relying on programs to pay their rent ever since April of 2020.
For the resident who actually apply for rent assistance, they all seem to be getting approved and a lot of residents rents are getting taken care of. Some struggles convincing some residents to apply - some just don't seem to care that they owe a bunch of money
All Tenants living here are on SS and the COVID19 pandemic did not impact their income so all RENTS have been paid on time as per normal, non-pandemic, years.
Note on Methodology:
The survey asks "How many occupied households were unable to pay full rent by the 15th day of the month?" The survey then adjusts for vacancy to arrive at the true percentage of occupied households that are unable to pay their full rent.

Definitions
Real estate professionals often use categories (A, B, or C) to describe rental properties after considering a combination of factors such as age of the property, location of the property, growth prospects, appreciation, amenities, and rental income. There is no uniform or precise formula for establishing these categories.
Class A - These properties represent the highest quality buildings in their market and area. They are generally newer properties built within the last 15 years with top amenities and demand the highest rent with little or no deferred maintenance issues.

Class B - These properties are close to Class A designation being generally older and typically offer fewer amenities. Rent is typically lower than Class A.

Class C - Class C properties are typically more than 20 years old and are not as well located. Due to a variety of factors, Class C buildings tend to have the lowest rent rates in the Conventional Housing market when compared to Class A and B properties.
Conventional Housing – Market-rate housing with no household income limits, rent limits, or special programmatic requirements in the financing.
Affordable Housing – Government financed housing (Often using Tax Credits or Bonds) that impose initial household income limits and maximum rent limits, all predicated on affordability calculations based on the area median income.
Thank you to every member and participant that took the time to complete the January Rent Survey that created these important data sets.