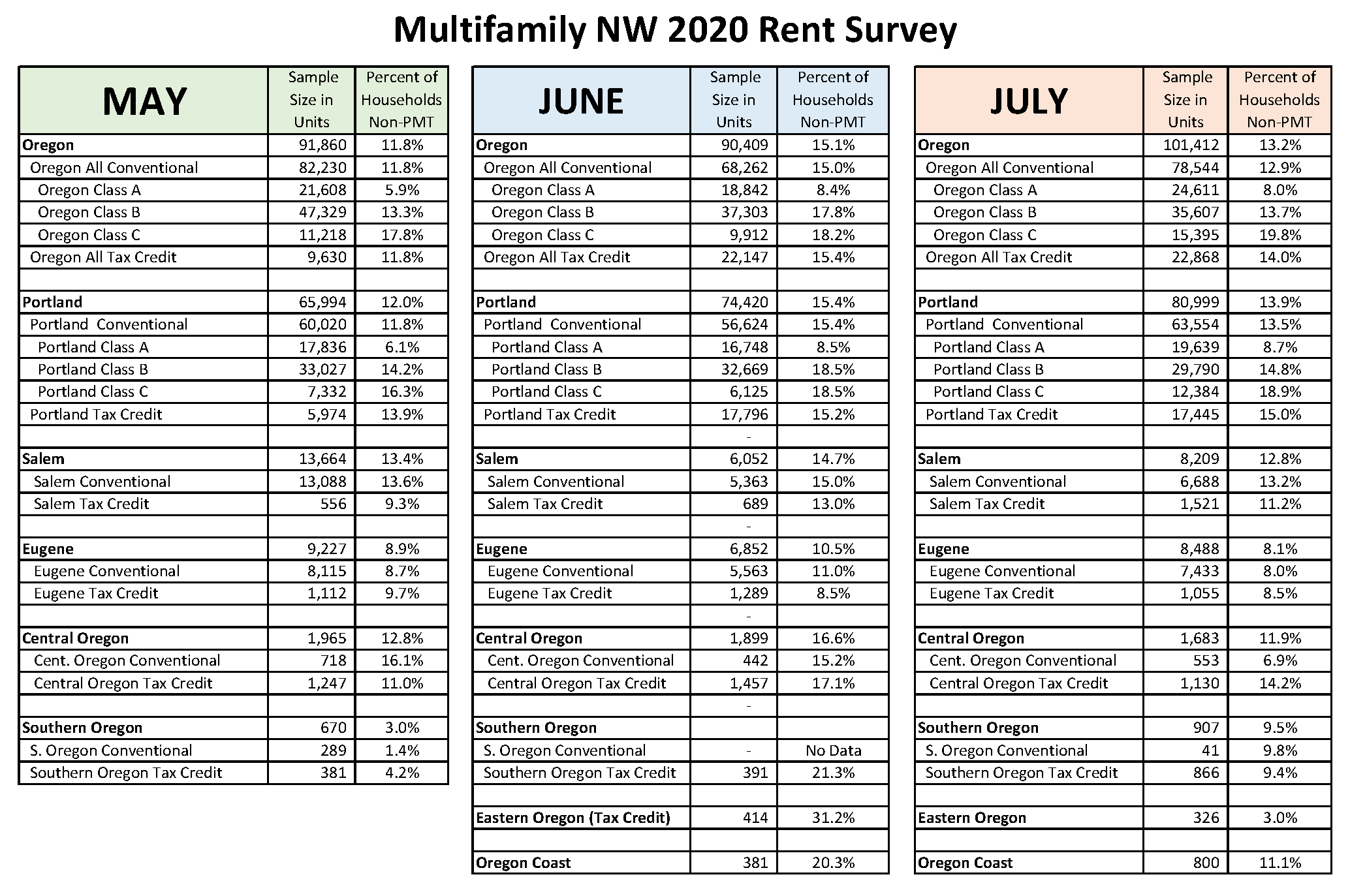 Multifamily NW collaborated with a broad group of housing professionals (management companies, private managers, housing authorities, nonprofits, state agencies) to collect surveys of conventional and affordable rental housing to establish the ongoing impact on rent payment of the COVID -19 crisis.
The July Rent Survey represented nearly 400 surveys collected, and over 100,000 conventional and Tax Credit rental units in Oregon.

The survey asked: How many households were unable to pay full rent by the 8th day of the month? The 8th of the month is the customary date for issuing nonpayment notices, and is a good measure of the hardships renter households are experiencing. The survey adjusted for vacancy in order to arrive at the true percentage of occupied households impacted. (Note that the survey does NOT measure economic occupancy at the close of the month)

Highlights:
On average, 13.2% of Oregon households did not pay their rent by the 8th of the month, which is an improvement on 15.1% reported in the June survey.
Statewide, of renter households living in Affordable Tax Credit units, 14.0% were unable to pay rent, compared to 15.4% in June..
Whereas improvements were noted in many regions and property types, the situation worsened for households living in non-assisted, conventional "Class-C" workforce multifamily housing, which experienced a 19.8% inability to pay rent, up from 18.2% last month.
Respondents with 5-10 units under management reported 14.7% inability to pay.
Respondents with 1-4 units under management had a 20.9%.
We received extensive comments from respondents about the problematic consequences of HB 4213, and we thank those who contributed here for sharing their stories.
Mark your calendars! The August Rent Survey will debut Monday, August 10th. Details to follow. Your continued participation is critical to the industry and very appreciated.

Thank you to every member that took the time to complete the June Rent Survey that created this important data set. Independent owners to large management firms to affordable housing providers like Home Forward and Homes for Good ensured participation across Oregon. Multifamily NW also extends an appreciative thank you to the Rental Housing Alliance and Oregon Housing and Community Services who were major collaborators in this survey.