June 2020 Rent Survey Results from Multifamily NW
May and June 2020 Rent Survey Results from Multifamily NW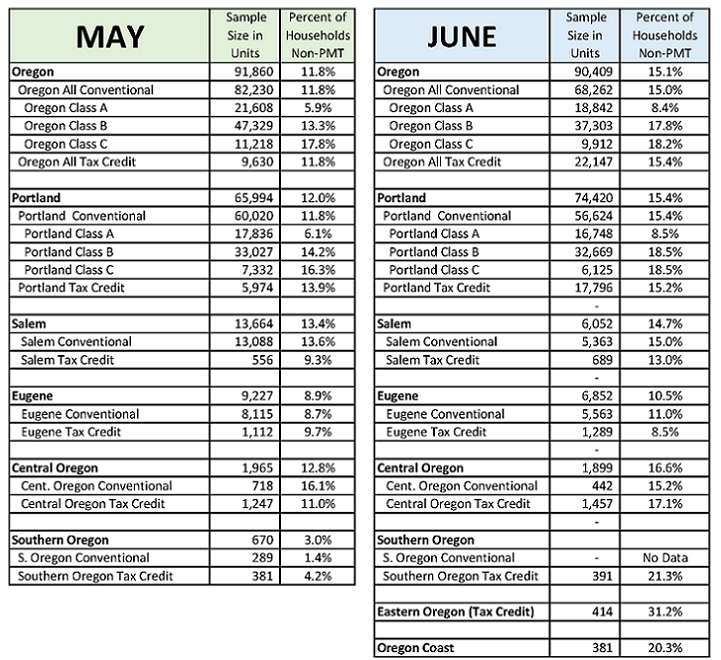 Multifamily NW collaborated with an array of housing providers (housing authorities, nonprofits, state agencies) to collect surveys of conventional and affordable rental housing to establish the ongoing impact on rent payment of the COVID -19 crisis. The June Rent Survey represented nearly 1/6th of the rental units in Oregon. We found that on average, 15.8% of Oregon households could not pay their rent due to loss of income. This is an increase of approximately 4% from May. Digging into data collected in June, we also found that the impacts of COVID-19 continue to be very clearly regressive.
Unfortunately, job losses combined with delays processing unemployment claims and a slow implementation of statewide emergency rental assistance to worsen the situation for many renters. 
Both surveys asked: How many households were unable to pay full rent by the 8th day of the month? The survey adjusted for vacancy in order to arrive at the true percentage of renters impacted. The broader impact to the market can therefore be extrapolated from these numbers.
Overall in the State of Oregon, 15.1% of renter households were unable to pay rent in June, compared to 11.8% in May.
Statewide, of renter households living in Affordable Tax Credit units, 15.4% were unable to pay rent, compared to 11.8% in May.
The impact is greatest for households living in non-assisted, conventional "Class-C" workforce multifamily housing, which experienced a 18.2% inability to pay rent, up slightly from 17.8% last month.
Overall, 1.7% of households were reported to be on a formal repayment plan.
4.9% were two or more months in arrears on rent.
Optional Covid-19 -related expense questions were asked in the June survey, with varying responses:
Cleaning – This question received 121 responses. All responses suggested that cleaning costs were up dramatically, most in the 50-100% increase range.
Personal Protection (PPE) - Counting 106 responses, this category also dramatically increased by 25-50% for all respondents. Where in some cases this had not even been a budget line item, many reported between $150-500 or more in expense per property.
Security - 30 surveys responded to the security question, with 22 indicating there was no change in this expense for their properties. Seven indicated increases of 10-50%.  One survey indicated security had to be cancelled.  Although many reported many more incidents, this does not necessarily correlate with more expense under existing security contracts.
Other - With only 16 responses to this question, the highlights include:  Increases to all utility expenses (water, sewer, electric, garbage) with everyone at home most of the time.  Several reported staffing hours increasing by up to 20%.  
Mark your calendars! The July Rent Survey will debut Wednesday, July 8th. Details to follow. Your continued participation is critical to  the industry and very appreciated. 
Thank you to every member that took the time to complete the June Rent Survey that created this important data set. Independent owners to large management firms to affordable housing providers like Home Forward and Homes for Good ensured participation across Oregon. Multifamily NW also extends an appreciative thank you to the Rental Housing Alliance and Oregon Housing and Community Services who were major collaborators in this survey.