September Monthly Rent Survey Results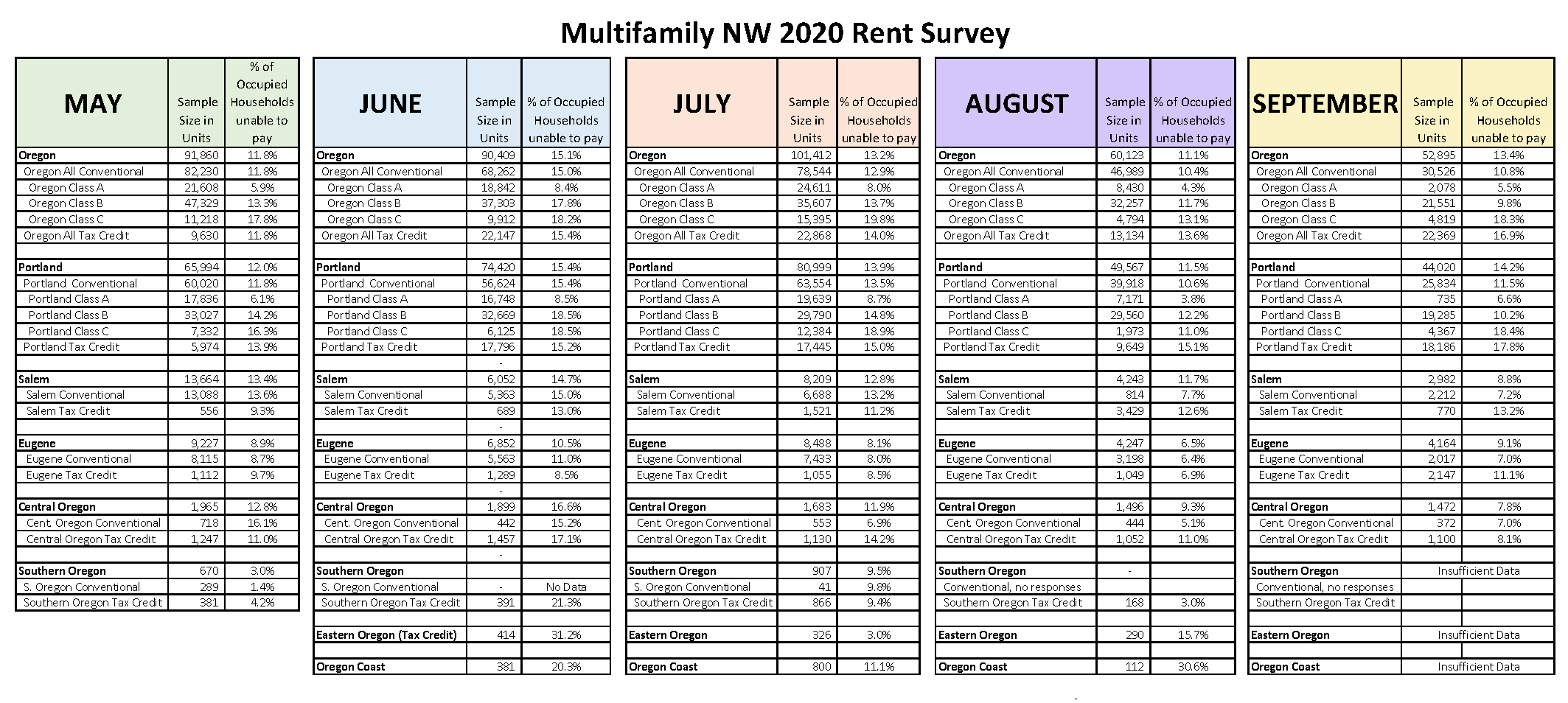 Multifamily NW collaborated with a broad group of housing professionals (management companies, private managers, housing authorities, nonprofits, state agencies) to collect surveys of conventional and affordable rental housing to establish the ongoing impact on rent payment during the COVID -19 crisis.

Only 52,895 units were represented in the survey for September, down from over 100,000 participating units in July. Between COVID-19, non-payment of rent, forest fires, and a rapid succession of hastily crafted legislation, housing providers are experiencing acute strain.

The survey asked: How many households were unable to pay full rent by the 8th day of the month? The 8th of the month is the customary date for issuing nonpayment notices and is a good measure of the hardships renter households are experiencing. The survey adjusted for vacancy in order to arrive at the true percentage of occupied households impacted. Click on the image above to download a PDF copy of the datasets.
Key findings:
On average, 13.4% of Oregon households did not pay their rent by the 8th of the month, which is a decline from 11.1% reported in August.
Statewide, of renter households living in Affordable Tax Credit units, 16.9% were unable to pay rent, compared to 13.6% in August.
Conventional "Class-C" workforce multifamily housing, which experienced a 18.3% inability to pay rent.
There were not enough responses from Southern Oregon, Eastern Oregon, or the Oregon Coast to report with statistical validity.
This survey, we asked how many households have received Short-Term Emergency Rental Assistance, and how many households are behind on rent by two or more months. The chart below compares Portland Metro, Eugene Area, and Salem Area on these factors.

Thank you to every member that took the time to complete the September Rent Survey that created this important data set. Independent owners to large management firms to affordable housing providers together contributed to the data. Particular thanks to Home Forward in Portland, Homes for Good in Eugene, Housing Works in Central Oregon, the Salem Housing Authority and Jackson County Housing Authority for helping ensure participation across Oregon. Multifamily NW also extends an appreciative thank you to the Rental Housing Alliance, Oregon Housing and Community Services, Housing Oregon, Oregon Association of Realtors and NARPM who were major collaborators in this survey.