Spring 2021 Apartment Report from Multifamily NW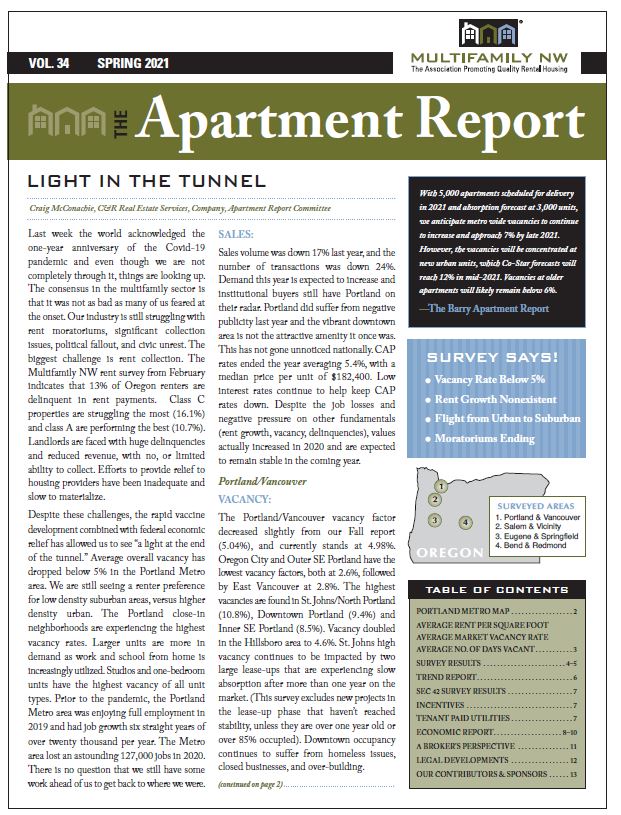 The Spring 2021 Apartment Report debuted Wednesday, March 17th at the Virtual Apartment Report Panel Event! The Spring 2021 Apartment Reports offers the most up-to-date rent and vacancy data for our market. The numbers are accompanied by four articles covering analysis of the data, recent regulations, an economic forecast and assessments of market fundamentals.
In lieu of the usual pre-Covid fanfare of upwards to 700+ attendees at the Oregon Convention Center to debut the Apartment Report, we adopted the event to be virtual and still provide the relevant industry information that our members are accustomed to. Thank you to everyone who participated and got the first access to the Spring 2021 Apartment Report!
Thank you to all participating companies and properties in the Apartment Report Survey and especially to our article contributors that created a well-rounded snapshot of the multifamily apartment market as the Covid pandemic endures, with its many challenges.
Members may click below for instant access - just be sure to sign into the website with your member credentials to authenticate yourself. For non-members the purchase link is also below. Questions? Contact the Multifamily NW office at info@multifamilynw.org.