Spring 2022 Apartment Report from Multifamily NW
Date posted
April 21, 2022
The biannual report shows alarming pattern of low inventory, high demand and increased investor hesitancy in cities across Oregon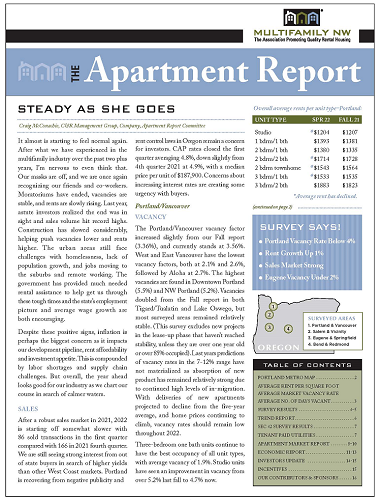 The Spring 2022 Apartment Report debuted Thursday, April 21st at the SOLD OUT in-person Spring 2022 Apartment Report Breakfast at the Oregon Convention Center! The Spring 2022 Apartment Reports offers the most up-to-date rent and vacancy data for our market. The numbers are accompanied by four articles covering analysis of the data, operating costs, an economic forecast, and assessments of market fundamentals.
Thank you to all participating companies and properties in the Spring 2022 Apartment Report Survey and especially to our article contributors that created a well-rounded snapshot of the multifamily apartment market. The Spring 2022 Apartment Report is 16 pages of high value content! The report's data is explained and summarized by the lead article written by Craig McConachie of C&R Management Group. State of Oregon Economist Josh Lehner wrote an article on current economic impacts to the industry, Patrick Barry of Barry & Associates contributed an insightful article on apartment market construction trends and Greg Frick of HFO Investment Real Estate contributed an insightful article on operating expenses for multifamily properties.
The Breakfast Speaker Panel featured presentations from Leah Sykes, partner and founder at Andor Law; Andie Smith, regional property manager at Holland Residential; Rene Gonzalez, candidate for Portland City Council position #3; Amy Ruiz, senior vice president at Strategies 360 representing Oregon Smart Growth; and Josh Lehner, economist with Oregon's Office of Economic Analysis. The panel was moderated by Michael Havlik, Deputy Executive Director for Multifamily NW.
Spring 2022 Speaker Panel Presentations
Leah Sykes - Legislative Update 2022
Andie Smith - Residential Operations through Pandemic
Amy Ruiz - City of Portland Permitting & Inclusionary Zoning
Josh Lehner - Oregon's Economic and Housing Outlook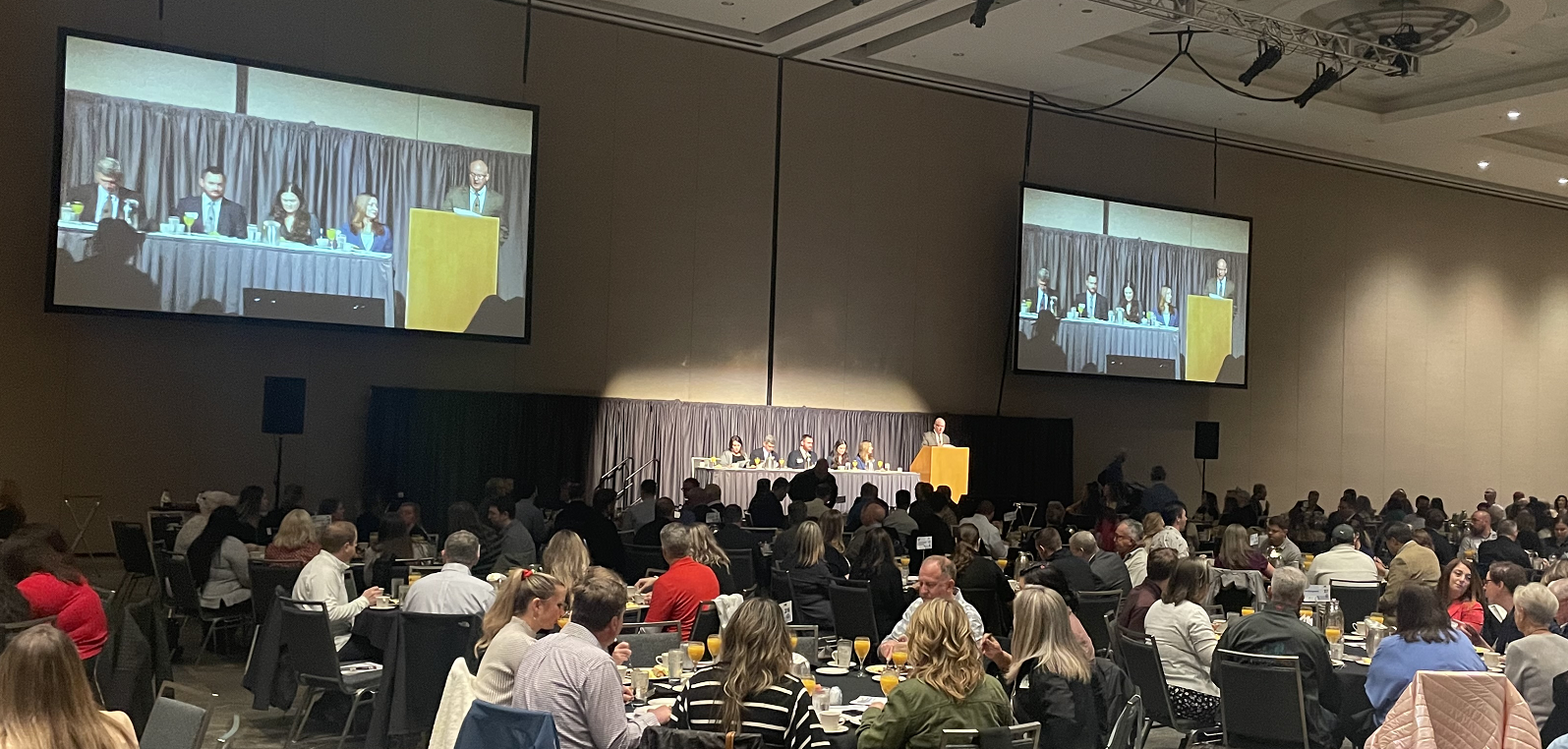 The Spring 2022 survey indicated Oregonians continue to move away from urban centers, dramatically impacting availability and affordability of multifamily rentals throughout the state. The new data is in stark contrast to the previous spring apartment report, where vacancies and rents had remained stable from the previous year.
The report's analysis of the Portland Metro rental housing market also indicates new housing production continues to lag behind growing demand, a leading cause of low vacancies and rising rents.
Thank you to our Spring 2022 Apartment Report sponsor HFO Investment Real Estate!