Summary of HB 4401 for Oregon Housing Providers
Date posted
December 22, 2020
On December 21, 2020, the Oregon legislature passed House Bill (HB) 4401 which will go into effect upon passage with Gov. Brown's signature.The most significant pieces of the bill are the extension of statewide eviction moratorium and creation of a new fund for rental assistance. The following legal update discusses the impact of the impending changes.
I. Eviction Moratorium Extension
Although lengthy, the main concept to take away from HB 4401 is that in the vast majority of cases, Landlords will be unable to terminate tenancies for nonpayment or without stated cause until July 1, 2021.
While this concept is simple, Oregon lawmakers once again opted for complexity over clarity. The following discussion attempts to dispel the confusion created by this complexity by explaining how the law actually works.
Prior to HB 4401, HB 4213 prohibited Landlords from taking certain actions based on nonpayment of charges incurred from April through September of 2020 (the
"Emergency Period") until March 31, 2021 (the end of the "Grace Period"). The list of prohibitions included terminating Tenants for nonpayment, charging late fees on nonpayment, and reporting nonpayment to a credit reporting bureau. It also prohibited issuing most termination notices under ORS 90.427 (including terminations without stated cause and most QLRs) until the end of the Emergency Period. Near the end of September, Governor Brown issued an executive order prohibiting such actions through the end of 2020.
HB 4401 extends most of the restrictions through June 30, 2021 while creating new rules, as detailed below.
1. Eviction moratorium – "Emergency Period" extended through December 31, 2020 at minimum
HB 4401 amends the Emergency Period in HB 4213 through December 31, 2020. The effect is that Landlords may not issue any termination notices for nonpayment for April through December 2020 debts until April 1, 2021 (end of the minimum Grace Period) at the earliest. This "extension" may be disregarded for existing Tenants as the Emergency and Grace Periods will be further extended through June 30, 2021, as discussed next.
2. Eviction moratorium – additional extension of "Emergency Period" and "Grace Period" through June 30, 2021 upon occurrence of easily satisfied conditions
HB 4401 further extends both the Emergency Period and Grace Period through June 30, 2021 if any of the conditions below are met. The conditions triggering the extension are so broad and so easily satisfied that the June 30, 2021 extension will apply in nearly all cases. In other words, this extension will be the rule rather than the exception.
The extension occurs if a Landlord does not attach a newly required notice (hereinafter "HB 4401 Notice") and newly required declaration (hereinafter "HB 4401 Declaration") to the following:
A balance reminder issued before the end of the Grace Period;
A termination notice for nonpayment delivered before June 30, 2021;
An eviction summons.
If the HB 4401 Notice and Declaration is provided, a Tenant may also extend the Emergency and Grace Periods to June 30, 2021 at any time by giving their Landlord a HB 4401 Declaration.
By creating two Emergency and Grace Periods that could apply to the different Tenants, HB 4401 imposes the nearly impossible task of tracking and applying different rules for different Tenants. Consequently, some Landlords, given the protections afforded Tenants by the Notice and Declaration, may consider simply operating on the assumption that Emergency and Grace Periods will end on June 30, 2021 and elect not to send out any nonpayment terminations or no-cause notices until after that time.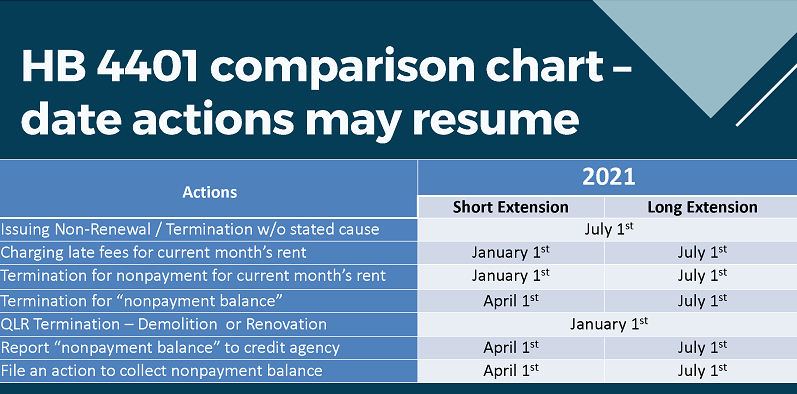 3. New Form Rules
The new HB 4401 Notice and Declaration must be in substantially the format drafted by the legislature, a copy of which is attached at the bottom for review. Landlords should consult counsel or obtain the document from a trusted, local forms provider such as Multifamily NW. Landlords are expressly prohibited from:
Challenging the accuracy of a Tenant's HB 4401 Declaration;
Requiring additional information from the Tenant;
Requiring more than one Declaration per household;
Refusing to accept a Declaration that was translated by the Oregon Courts (Spanish, Korean, Russian, or Chinese); or
Prohibiting Tenants from giving the declaration in any particular manner, including use of a photograph, email, or text message.
4. Penalties
Violations of HB 4401 entitle Tenants to the following relief:
Payment of three months' rent;
Injunctive relief to regain possession of the premises;
Actual damages;
Defense to an action for possession of the premises; and
Attorney fees unless the Landlord delivered the aforementioned form to the Tenant and did not know or have reasonable cause to know at the time the action was commenced that the Tenant submitted a completed form and the Landlord dismisses the action upon learning of the completed form.
HB 4401 also increased the penalties for retaliation claims from up to two months' rent to up to three months' periodic rent or three times the actual damages sustained by the Tenant.
5. Other Changes and Implications
Application of Payments. HB 4213's rules governing application of payments continue to apply through the end of the applicable Emergency Period and Grace Period.
New Prohibition on Civil Cases. One new restriction was added that prohibits Landlords from filing any action to recover the nonpayment balance before the end of the Grace Period, such as a small claims filing.
New Balance Reminder Requirements. Balance reminders are still permissible but the required language will depend on whether the Emergency and Grace Periods are extended. If they are not extended (i.e. Emergency Period ends December 31, 2020 and Grace Period ends on March 30, 2021), the balance reminder must state that "eviction for nonpayment of rent, charges and fees accrued from April 1, 2020, to December 31, 2020, is not allowed before March 31, 2021" and include the HB 4401 Notice and Declaration. If the Emergency and Grace Periods are extended, the balance reminder must state that "eviction for nonpayment of rent, charges and fees accrued from April 1, 2020, to June 30, 2021, is not allowed before June 30, 2021", but no HB 4401 Notice or Declaration need be attached.
Security Deposit Deductions Allowed. HB 4401 fortunately did clarify that Landlords may deduct Emergency Period charges from the security deposit if a tenancy terminates before the end of the Grace Period. The law does not expressly address whether a remaining balance after the security deposit has been exhausted is protected until the end of the Grace Period.
Nonpayment Termination Notice Period Extended. Assuming the Emergency and Grace period are not extended and a Landlord elects to issue a termination notice for nonpayment, a 72-hour notice must now give 10-days to pay or quit. Similarly, the lesser-used 144-hour notice must now give 13 days to pay or quit.
Evictions Forms Updated. New summons and complaint forms must be used. Additionally, a Landlord filing an eviction for nonpayment must attach a declaration to the complaint establishing that they have complied with the HB 4401 Notice and Declaration requirements and that no Declaration from the household was received.
Removal of Grace Period Notice and Penalty. HB 4401 removed a Landlord's ability to send out a Grace Period notice requiring the Tenant respond or face a one half month's rent penalty. Such forms should no longer be used and the penalty may no longer be assessed if the Tenant fails to repay the Landlord by the end of the Grace Period.
No Limitations on QLRs. HB 4401 dispensed with the remaining limitations on qualifying Landlord reason termination notices, which previously prohibited termination when a Landlord planned to demolish or seriously renovate a dwelling.
Moratorium Sunset. After the moratorium ends, the law will revert to the way it was prior to April 1, 2020. For example, in July of 2021, termination notices for nonpayment will again only require 72-hour notice, the eviction summons and complaint will be the version in use in 2020, and the application of payments will resume requiring Landlords to apply payment to old rent, the current rent, then utilities, etc…
II. Landlord Grants for Unpaid Rent
Oregon Housing and Community Services (OHCS) has been given a grant of
$200,000,000 to provide to Landlords to assist them with collecting unpaid, past due rent that a Landlord-Applicant has not collected after April 1, 2020 from qualified Tenants. The grant, however, comes with several restrictions, specifically Landlord-Applicant must:
Submit an application for all Tenants (except immediate family members) owing rent who have submitted HB 4401 Declarations;
Provide a description of the unpaid rent for all current Tenants;
Agree to forgive the remaining 20% of the unpaid rent due from qualified Tenants that has accrued between April 1, 2020, and the date of the application, upon receiving a distribution under this subsection;
Agree to repay to the department any amount that was forgiven by the Landlord or that was paid to the Landlord under this section and the Landlord later receives from the qualified Tenant or on the Tenant's behalf, within the period requested by OHCS;
Not give a termination notice without cause or for non-payment during the application period; and
Provide any information or materials requested by OHCS.
OHCS is required to develop an online application process and has discretion to prioritize certain Landlord's claims over others. No further information is available at this time regarding how the money will be administered other than that payments will be made directly to Landlords and coordinated through local housing authorities.
III. Conclusion
HB 4401 is yet another major change in a volatile year that implicates many areas of property management and compliance. Special attention should be paid to the required changes in forms and practices. If you are not already utilizing the Multifamily NW Forms Collection, you should seriously consider doing so now. Many educational trainings will be offered covering this new law in the coming year. Due to the heavy penalties associated with HB 4401, training is strongly recommended.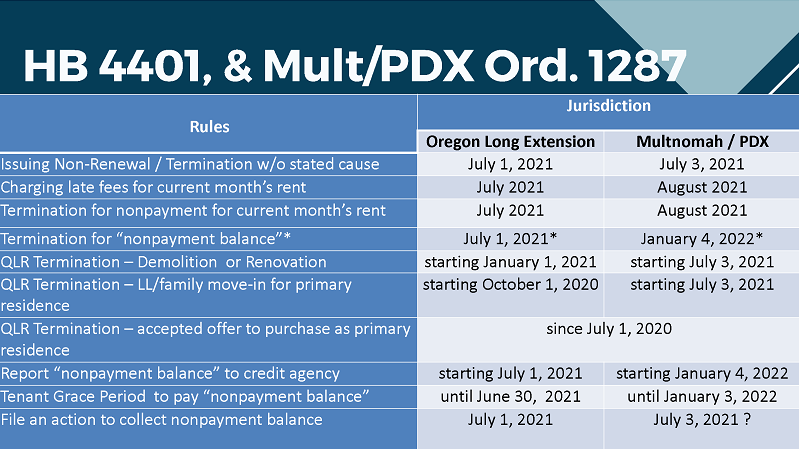 This article is not intended as legal advice. Please obtain advice of an attorney for any policy change or decisions regarding residential and commercial Landlord-Tenant matters.