The SWV Service Committee Celebrates Another Successful Drive
The SWV Service Committee just completed their 2nd annual Diaper Drive in partnership with local Bi-Mart stores. For one month, local residents in the Eugene/Springfield area were encouraged drop off packages of diapers and wipes at 6 Bi-Mart locations. In 2017, 3000 diapers and 500 wipes were collected. 2018 saw a 33% increase with a total of 4000 diapers, 2500 wipes, one tube of Desitin, and two tubs of corn starch donated!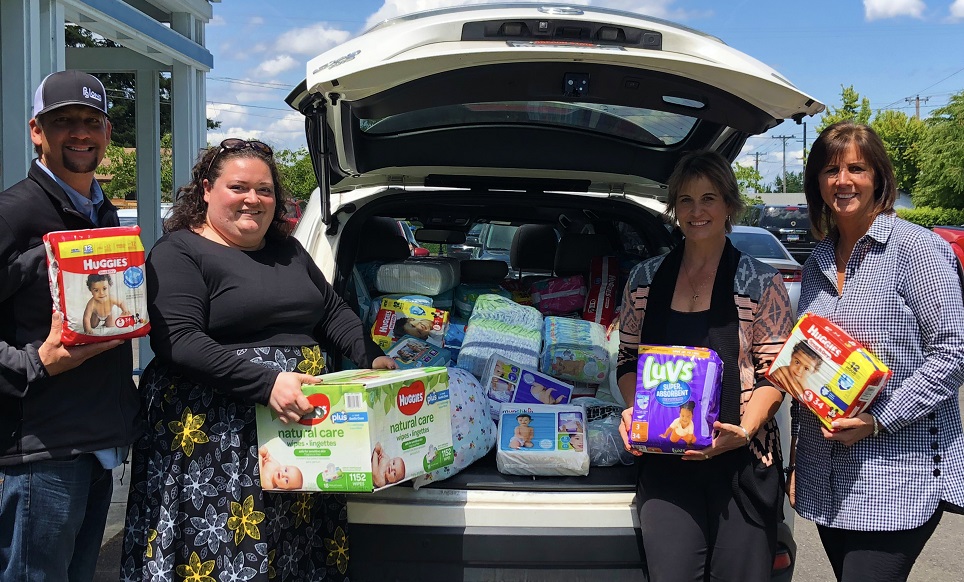 Along with members of the service committee, Aaron Donley from Sanipac was an integral part of the success of this campaign – forging the partnership with Bi-Mart and providing placement and pick up services. This partnership really made the difference!
Service committee chair, Brent Ellifritz of PG Long Floorcovering said:
"BIG THANKS to all, who donated and we look forward to even more individual properties contributing next year. The Stone Ridge Apartments of Bunting Management Group collected 750 diapers alone at their property, which was nearly all of the increased contribution of this year's efforts. Imagine if all of our complexes had a bin at their property and had 750 diapers collected. We would need a trailer to do the drop off to the charities!"
The donated items were split and delivered to the Relief Nursery and Womenspace. The items were delivered last week and both charities were very thankful for the efforts:
"Thank you for donating diapers to Womenspace. Your generosity will help parents experiencing domestic violence and give them one less detail to worry about. Diapers are essential but costly for many families. Many people who seek help at Womenspace, have little or no income. The diapers will be available for any of our clients—whether they are staying in our emergency shelter or meeting with an advocate for the first time." -Julie Weismann, CEO, Womenspace
"A couple of days ago we received a wonderful visit from our friends at Bi-Mart and Multifamily NW who brought us a very much needed diaper donation! 2,000 diapers were collected through their diaper drive and donated to Relief Nursery. Thank you to everyone who donated and to Bi-Mart and Multifamily NW for organizing this and for their continued support." -Pau Millan, Community Engagement Coordinator, The Relief Nursery
The SWV Service committee plans to hold another drive next year. In the meantime they are working on a program to have the other SWV committees Adopt-a-Family for the 2018 holiday season. If you would like to be a part of this or any future programs, please contact Brent Ellifritz.
2018 SWV SERVICE COMMITTEE INFO
Chair – Brent Ellifritz, PG Long Floorcovering
Jami Sterling, Sterling Management Group
Sarah Vail, Jennings Group
Shannon Shaffer, Bunting Management Group
WOMENSPACE INFO
You can donate to Womenspace by visiting our website. http://womenspaceinc.org/donate/. We accept gifts of stock, life insurance, or charitable remainder trusts. Please contact Kim Lax, Development and Resource Director, if you'd like to arrange a legacy gift. Womenspace has a continuous need for diapers sizes 3, 4, 5, training pants of all sizes and full-size toiletries. You can drop off these items at our office or use any online retailer, like Amazon, to purchase these items and have them shipped to our office. Our address is:
Womenspace
1577 Pearl Street
2nd Floor
Eugene, OR 97401
About Womenspace:
In 1977, four women met and discussed the need for an emergency shelter for victims of domestic violence. More than forty years later, Womenspace continues to provide safety, hope and healing to survivors of domestic violence. As the largest domestic violence services nonprofit in Oregon, Womenspace serves thousands people every year. Womenspace provides a 24-hour crisis line, short-term emergency shelter, bi-lingual services and support groups to people of all genders.
RELIEF NURSERY INFO
Relief Nursery is a child abuse and neglect prevention agency and has been serving the Lane County community for more than 40 years. We serve about 1,000 families each year. Our mission is to strengthen families and keep children safe. Your donations and support make it all possible.
If you'd like to support our mission there are different ways you can get involved like volunteering, monetary and in-kind donations, or by hosting a fundraiser at your business. For more information on any of these please contact our development department at development@reliefnursery.org and share your ideas with us; we'd love to work with you.