Back to Events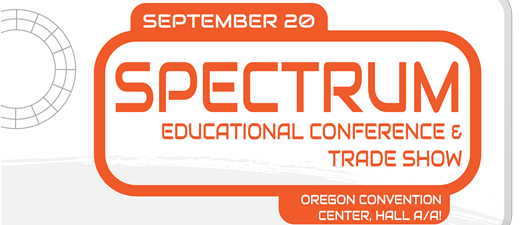 Spectrum 2018 Exhibitor Setup
Exhibit Halls A-A1
Wednesday, September 19, 2018
at
1:00 PM (PDT)
to Thursday, September 20, 2018 at 6:00 PM (PDT)
Event Details
Exhibitor Resources
Booth Electricity
MUST BE ORDERED THROUGH THE OCC. Order Electricity for Spectrum 2018 <-You will need your booth number to order services.
*NOTE: Cost of electricity is much higher day of show. Please order in advance if possible.
Additional Booth Items
Please see the 2018 Spectrum Exhibitor Kit to order additional booth items.
Waste Diversion Policy
All Exhibitors are expected to adhere to the Oregon Convention Center's Waste Diversion Policy. Download your copy here.
Shipping/Freight Handling
Please see the Freight Handling Instructions in the Exhibitor Kit.
Exhibitors are responsible for
Extension cords/power strips: Extension cords must be industrial 3-prong (grounded) cords. If plugging more than one item into the power supply, you must also bring a power strip.
Exhibiting Policies & Reminders
Your exhibit must stay within your purchased booth space. No exhibitors may take up aisle space or "spill over" into another booth.
Flyers, giveaways, activities, are permitted only from within your booth space.
Exhibitors are required to wear the exhibit name badges provided
All exhibits must comply with appropriate fire See Fire Marshal's Rules in the OCC Exhibitor Rules & Regulations for more info.
Food & Beverage Policies
The Oregon Convention Center has strict food and beverage policies which apply to all exhibitors. Please see the OCC Exhibitor Rules & Regulations for details or contact Tom Jelineo to inquire about specific food or beverage products.
Booth Representatives
All booths include two (2) lunches for representatives (double booths include four (4) lunches) - lunch tickets will be provided
Any additional lunches need to be purchased before the show for $40.00/each. Please contact info@multifamilynw.org to order additional lunches.
Additional representatives may be present at your booth for no extra charge if they are not eating Please register all booth representatives by Friday, September 14th to ensure name badges are available. This includes any representatives that will be visiting or attending only part of the show.
Blank name badges will be available at registration on the day of the show and will need to be filled out by hand
Agenda
September 19
1:00 PM - 6:00 PM

Exhibitor Setup (pre-show)

Load in Bays #1, #2, #3 & #4
September 20
6:00 AM - 9:00 AM

Exhibitor Setup (day of show)

Load in Bays #1, #2, #3 & #4
8:30 AM - 9:30 AM

Keynote: Never Fly Solo

Ballroom 204
10:00 AM - 4:00 PM

Exhibit Floor Open

10:00 AM - 10:50 AM

#1 Breakout Session

11:00 AM - 11:50 AM

#2 Breakout Session

12:00 PM - 1:30 PM

Lunch

Lunch Ticket Required
1:30 PM - 2:20 PM

#3 Breakout Session

2:30 PM - 3:15 PM

Raffle Prize Giveaway

3:00 PM - 6:00 PM

Exhibitor Teardown

Load out Bays #1, #2, #3 & #4 Please refrain from tearing down your booth early The loading docks will not be available until 3pm