Call to Action: Apartment Report Breakfast Panelists Recap Onslaught of Bad Policy Proposals
Date posted
October 22, 2018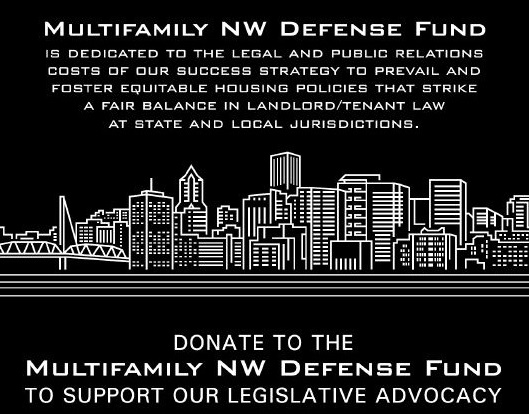 The record turnout for the Fall 2018 Apartment Report Breakfast got to hear from our distinguished speakers panel who addressed a variety of themes from genuine enthusiasm for our market and the place we call home, to disbelief and concern as we're faced with mounting, one-sided regulations proposed both at the city and state level.
Panelist and attorney Leah Sykes detailed the troubling and deeply flawed proposals overhauling applicant screening and security deposit rules that the Portland City Council will soon consider. Leah and our Executive Director Deborah Imse are members of Portland's Rental Services Commission, and they have been championing our industry with constant critical feedback on these policies to frustratingly deaf ears at City Hall. Why do the actions in Portland effect our members across Oregon? Policy ideas that gain traction in Portland are often the model for statewide legislation.
In the last two years, with the election of Commissioner Eudaly and Mayor Wheeler, the Portland City Council has taken an abrupt left turn with astonishing indifference for the concerns of Housing Providers. Due to these unprecedented actions, Multifamily NW has endorsed a non-incumbent in that race. Multifamily NW heartily supports Loretta Smith to fill the open seat on Portland City Council. We were thrilled she was able to join the speakers panel at the Apartment Report Breakfast and explain the stakes of her campaign. We encourage you to vote and support her campaign to bring back a voice of reason to Portland City Hall.
The association also welcomed San Francisco based housing directors Janan New and Brook Turner who gave their insights on how Oregon can better prevent rent control policies that we will surely fight next year in Salem.
Multifamily NW is at the forefront of these serious threats to our industry's business practices and liability. Our legal/lobby/PR team is preparing a multi-faceted campaign fight and preserve fairness in our industry. The results of the November 6th election will finally determine and confirm the power dynamic in Salem we will face in the 2019 Legislative Session.
You have the chance to support the continued advocacy and fight for our industry with Multifamily NW. Please consider supporting the Multifamily NW Defense Fund today. Your donation is kept absolutely confidential. It's an honor to lead this fight for fairness and we truly appreciate your backing and support!
Click Here to Donate to the Multifamily NW Defense Fund
Checks can be mailed as well to:
Multifamily NW Defense Fund
16083 SW Upper Boones Ferry Rd Suite 105
Tigard, OR 97224
Thank you for your support!