Fall 2023 Apartment Report from Multifamily NW
Date posted
October 19, 2023
Members: Download the Fall 2023 Apartment Report
Non Members: Purchase the Fall 2023 Apartment Report
Multifamily NW, the state's largest association of housing providers, released the bi-annual Apartment Report on Thursday, Oct. 19 during an event at the Oregon Convention Center that drew more than 500 housing professionals, elected officials, and community leaders.
The report, which is released twice a year, surveys nearly 90,000 units from more than 1,260 properties across the region to understand rental market trends and realities. Key takeaways from the Fall 2023 report include lagging apartment development, increasing vacancy rates, skyrocketing expenses, and rents that are continuing to stabilize.
"This latest Apartment Report shows what housing providers have known all year long," said Gary Fisher, deputy executive director of Multifamily NW. "While the vacancy rates and stable rents indicate a healthier market than in past reports, widespread housing instability will persist if the state continues to impede new home construction and ignore the rising cost burden that housing providers are shouldering."
Thank you to all participating companies and properties in the Fall 2023 Apartment Report Survey and especially to our article contributors that created a well-rounded snapshot of the multifamily apartment market. The report's data is explained and summarized by the lead article written by Ariel Wilsy-Gopp of CRMG. Economist Jon Spikkeland of Johnson Economics authored an article on current economic impacts to the industry and Patrick O. Barry contributed an insightful article on multifamily market fundamentals.
The Luncheon Speaker Panel featured presentations from Patrick O. Barry, State Certified General Appraiser at Barry & Associates that addressed multifamily market fundamentals, values and sales. Gregg Colburn, Associate Professor in the Runstad Department of Real Estate at University of Washington presented research on policy and environmental commonalities of those experiencing homelessness. Mary-Rain O'Meara, Senior Director of Community Development at Central City Concern illuminated substantial efforts of affordable housing providers meeting the needs of vulnerable renters. Matthew Illias, Managing Director at Ethos Commercial Advisors explained the status of multifamily lending. Marcel Gesmundo, Founder/Partner at Andor Law summarized recent changes in housing regulations. Thank you to our esteemed panelists! There presentations are linked below above.
THANK YOU TO THE FALL 2023 APARTMENT REPORT SPONSORS!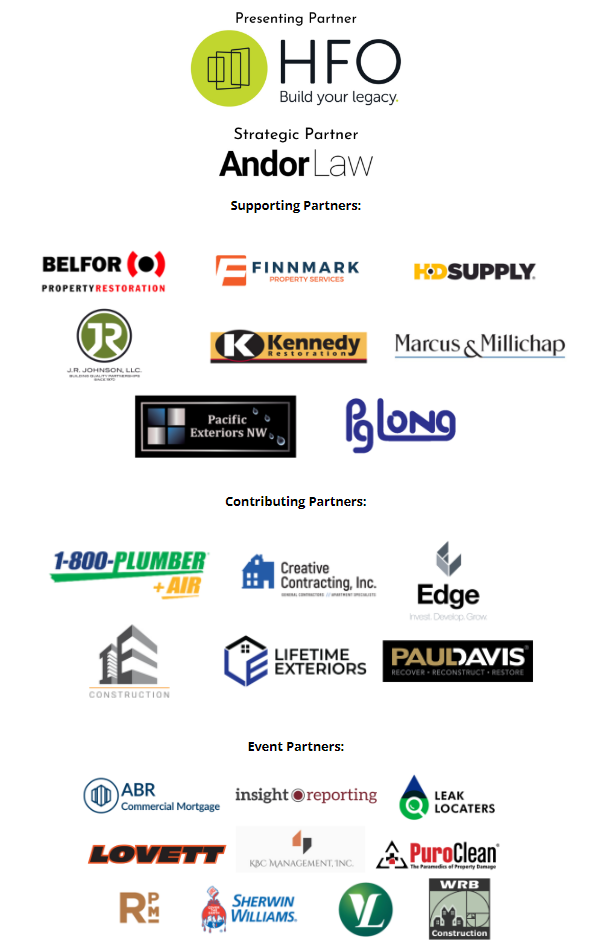 Members: Download the Fall 2023 Apartment Report