Following Statewide Rent Cap Oregon Multifamily Investment Drops 38%
CoStar Market Insights: 60% of Investment Comes from In-State Buyers, Nearly Triple the Rate in 2018
By: Emily Anderer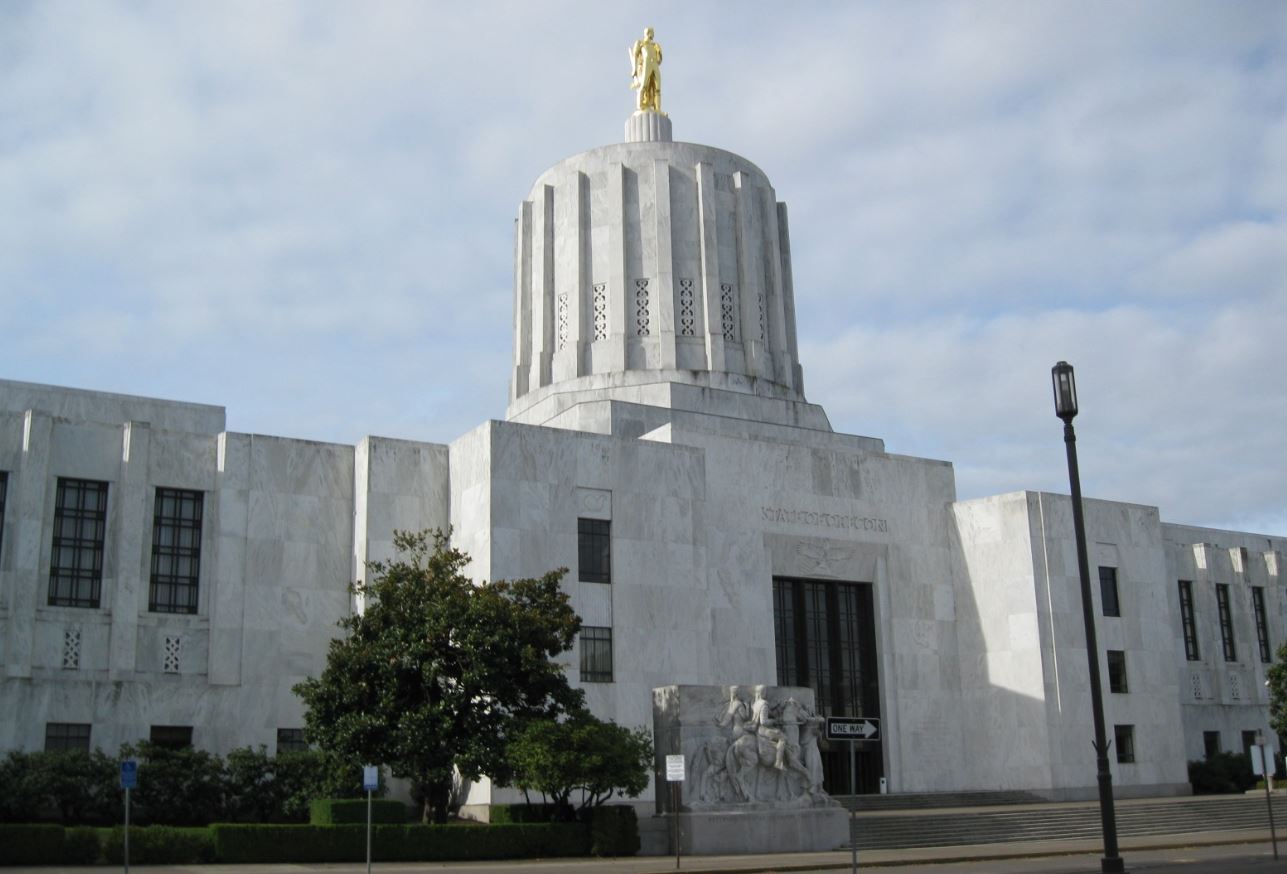 In the wake of Oregon's new statewide law capping apartment rent growth, multifamily investment – particularly from out-of-state buyers – has significantly declined. This may hold lessons for states around the country grappling with rent control measures.
It's only been about three months since the bill passed, but available sales data already offers some insight into initial investor response to the law. The contraction of capital has occurred even though the rent cap is well above the annual rent gains typically seen across the state. At least in the short term, out-of-state investors are retreating from Oregon's multifamily sector.
In the first three months following Oregon's rent cap passage, March through May, investment in market-rate multifamily buildings totaled $200 million. This represents a 38% decline in investment from the same period one year earlier. In March, April, and May 2018, multifamily investment totaled $325 million.
In February, Oregon passed a statewide law capping annual rent growth at 7% plus inflation, affecting only buildings that were at least 15 years old. The law, which took effect immediately, was the first statewide rent cap in the nation. Oregon's rent cap is far higher than current apartment rent growth levels across Oregon. For example, rent growth in the Portland metropolitan area is now 2.8%. Salem presently has the highest rent growth in Oregon – at 4.5%. Generally, annual multifamily rent growth across Oregon has been well below the level set by the rent cap.
More recently, New York became the latest state to pass statewide rent control measures. Laws passed by the New York state Legislature and signed by Gov. Andrew Cuomo last week will expand to the entire state beyond New York City, which has had rent control for decades. In part, the overhaul eliminated some loopholes that allowed landlords to raise rents in the Big Apple. The new legislation also permits municipalities around the state to craft their own rent-control rules.
California could also be joining Oregon's ranks. After a measure to repeal the state's prohibition on new rent control was rejected by voters in 2018, the Golden State's Assembly recently approved a bill that would cap rent hikes statewide to 7% plus the cost of inflation. But it still needs approval by the state Senate and eventually a signature from Gov. Gavin Newsom to become a law.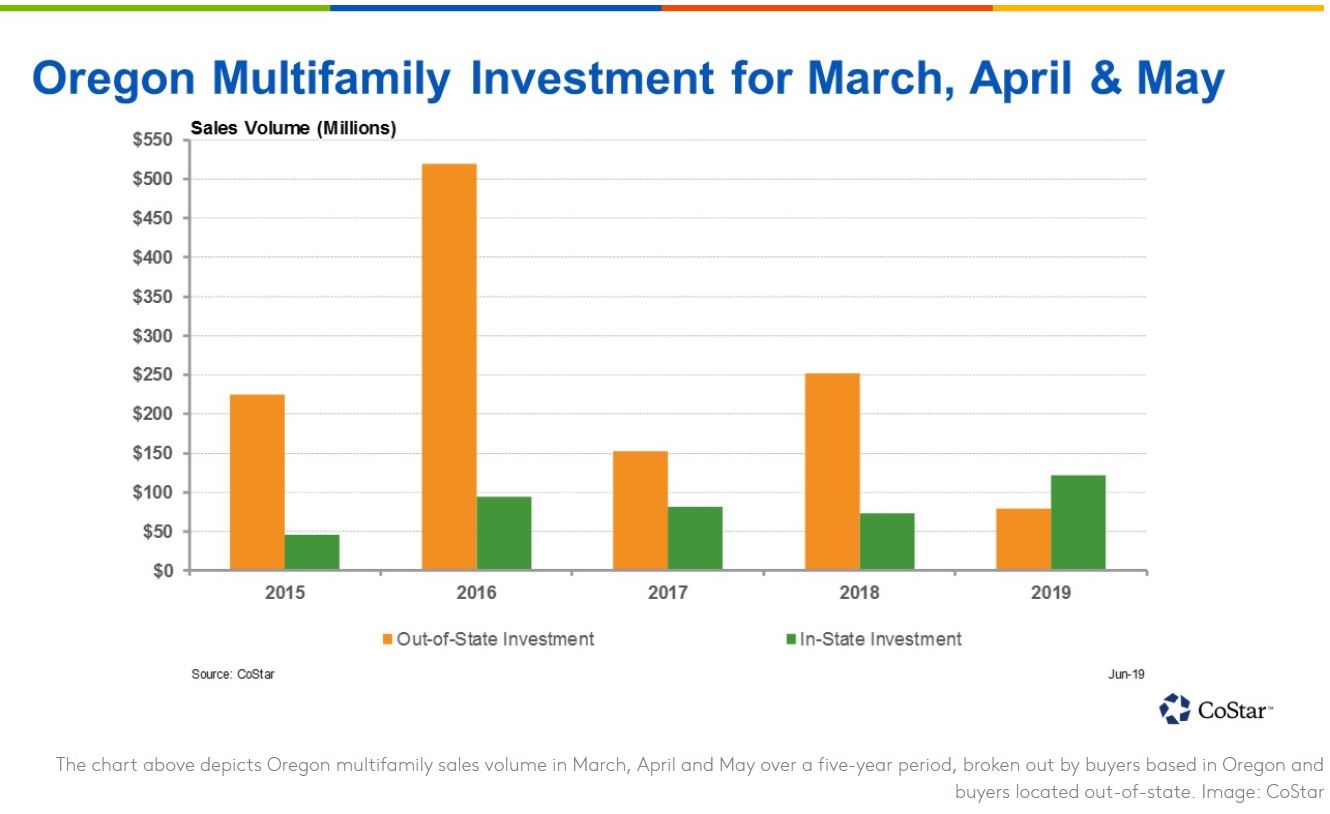 As sales volume fell in Oregon, the proportion of investment coming from in-state buyers nearly tripled.
Over this three-month period in the current year, 60% of multifamily investment in Oregon came from in-state buyers. By contrast, during the same period in 2018, just 22% of capital came from in-state buyers. In the wake of the rent cap, out-of-state buyers are choosing to invest substantially less in Oregon multifamily.
Along with sales volume and out-of-state investment, the number and the scale of large multifamily transactions has also decreased.
Between March and May, there were 10 multifamily sales over $5 million. The biggest was the $38.3 million trade of Stevens Creek Apartments in Happy Valley, Oregon, a Portland suburb. Delivered in 2018, the property is not subject to the rent cap for another 14 years. The buyer and seller were both located in Portland.
In 2018, the same three-month period saw 15 multifamily sales over $5 million. The largest was the $55 million sale of Bridge Town Lofts, delivered in 2017 and situated in Portland. The seller was based in Las Vegas and the buyer in Oakland, California.
Given that the new rent cap is fairly high, well above typical Oregon rent growth levels, why has investor pullback from Oregon's multifamily sector been so dramatic? Investors may fear the rent cap is a proverbial foot in the door, and may become more restrictive in the future. For example, perhaps the ceiling on rent growth may drop from the current rate, 7% plus inflation, to a lower figure.
Additionally, investors may prefer to deal with no rent cap at all – and there are plenty of alternative investment opportunities. Just to the north of Portland, Vancouver, Washington is seeing exceptionally strong multifamily investment this year. Only midway through June, that area's investment so far in 2019 is on par with investment for all of 2018. This has happened even as multifamily investment simultaneously declines in Oregon. Similarly, while it's just midway through June, second-quarter office investment in Portland has already hit a high for the current price cycle.