Multifamily NW Policy Panel: Solving Oregon's COVID-19 rental housing crisis
Date posted
February 12, 2021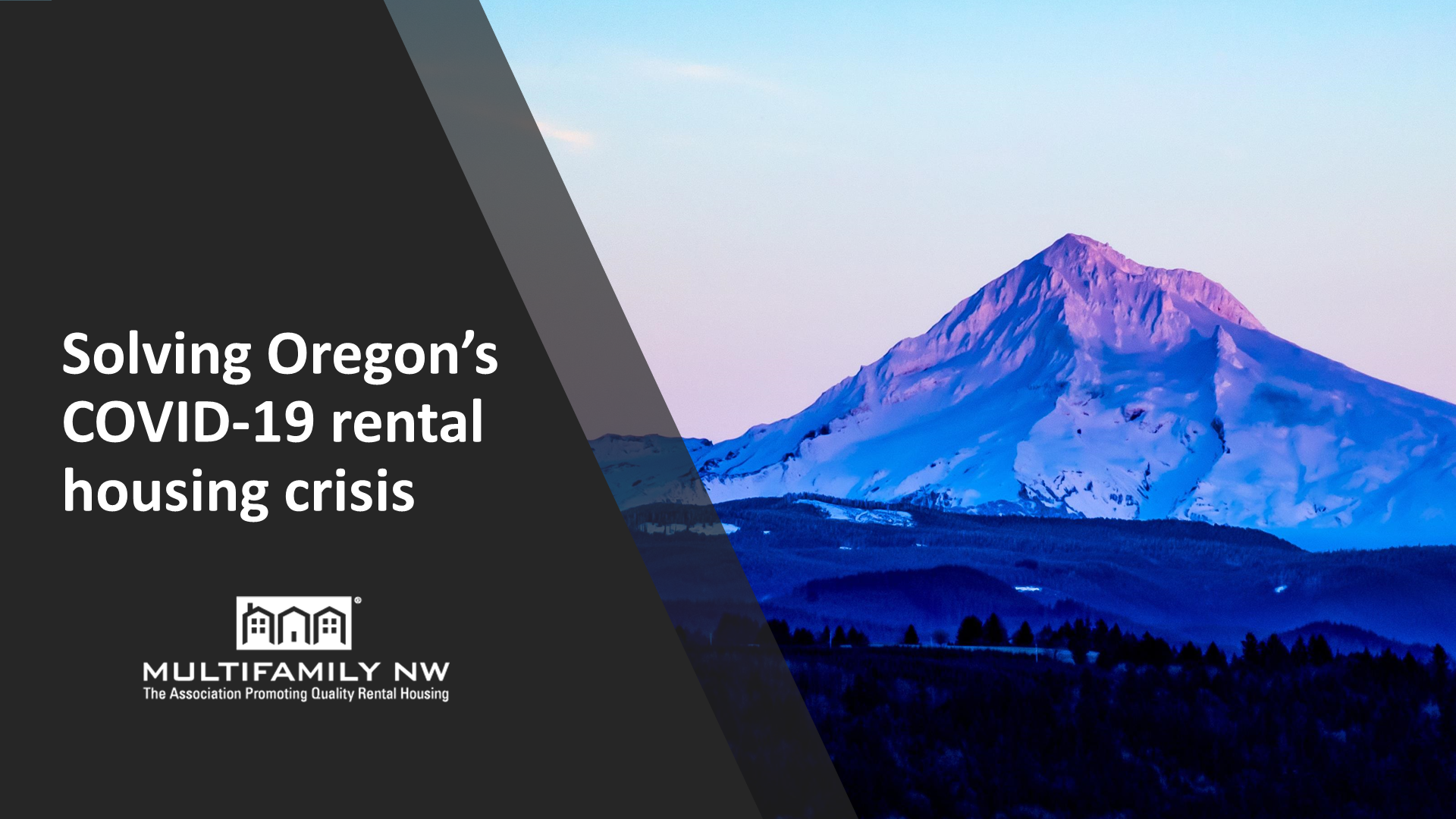 Members of Multifamily NW,
We are very excited to share with you a recording of Multifamily NW's policy panel "Solving Oregon's COVID-19 rental housing crisis" recorded on Wednesday, February 10, 2021.
Click here to view the webinar
Oregon is facing a critical moment of decision making. Our panel looks at how our state has accrued hundreds of millions of dollars in back due rent, and how to chart a course forward to address this looming financial and housing disaster.
Economist Jerry Johnson of Johnson Economics debuted an economic impact analysis titled; "State of Oregon Eviction Moratorium Discussion White Paper on Anticipated and Observed Impacts" which explains the current and future impacts to Oregon's housing supply if the back due rent is not addressed.
Click here to view the Johnson Economics whitepaper
Robust assistance directly to both renters and housing providers is the highest priority, but it is clear there will not be adequate funding to address the magnitude of back due rent across the state. Oregon's housing community needs another option to address all aspects of the housing crisis.
Click here to review January 2021's rent survey
We hope you will take time to watch this informative policy panel and join us in calling upon our legislators to support State Senator Betsy Johnson's bill SB 330 which establishes income tax credit program for forgiven rent.
Click here to review Senate Bill 330
CALL TO ACTION
Please let your legislators know:
Renters and housing providers have faced massive uncertainty over the last year with no clear plan by the state for how to resolve the COVID-19 rental housing crisis.
The state legislature needs to move quickly to get the maximum amount of assistance in the hands of renters and housing providers as soon as possible.
We know that the need for assistance will surpass the funding available, therefore we support Senator Betsy Johnsons plan to address Oregon's housing crisis. Please pass SB 330 without delay.
Click here to find your representatives in Oregon
I want to thank all our members for their thoughtfulness and engagement in these advocacy efforts during these incredibly difficult times.
As always please let my team and I know if you have any questions,
Deborah Imse
Executive Director
Multifamily NW