May 2021 Monthly Rent Survey Results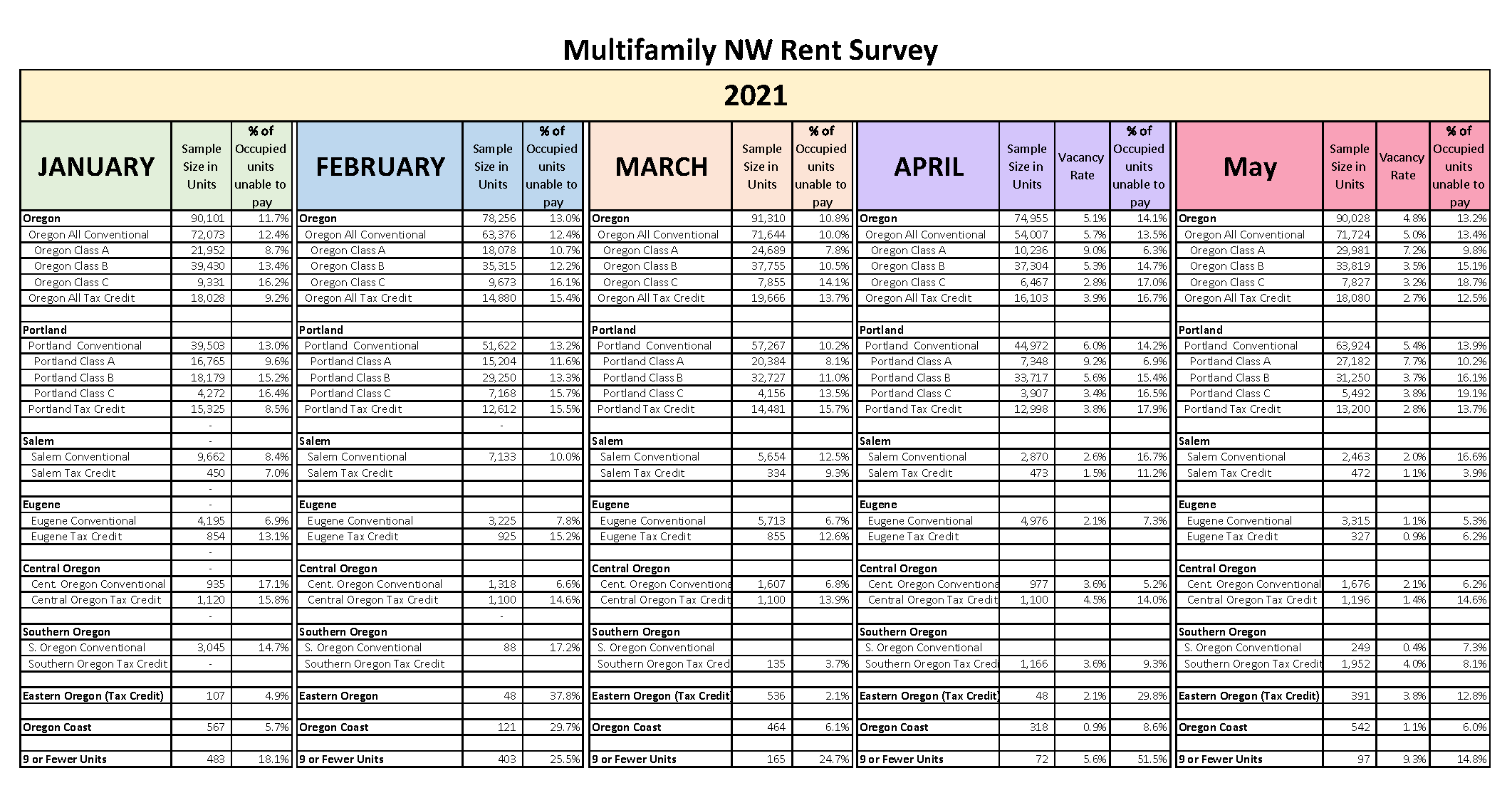 Click the image above to zoom into the data table.
Multifamily NW collaborated with a broad group of housing professionals (management companies, private managers, housing authorities, nonprofits, and state agencies) to collect surveys of conventional and affordable rental housing to track trends in ability to pay rent in occupied units across Oregon.
May survey responses rebounded from the previous month, giving us a better perspective of current rent collection. This month on average rent payment in Oregon households improved about one percent from 14.1% in April to 13.2% in May. Still, Class-C workforce housing tallied a worrisome 18.7% inability to pay rent and Class-B housing reported some of its worst payment stats across the history of the pandemic. With the emergency period of the Eviction Moratorium still in effect through June 30th, 2021, vacancies remain at historic lows.
Key findings for May:
On average, 13.2% of Oregon households did not pay their rent by the 15th of the month, which represents a small improvement from 14.1% in April.
Statewide, conventional housing remained about the same between April and May, showing an improvement of only 0.1%. Sample size influenced the outcome: a comparatively large data set for Class A conventional apartments offset serious unfavorable trends in Class B and Class C conventional units.  This underscores the importance of collecting data at this level of granularity when possible.
In the statewide sample of Affordable Tax Credit units, 12.5% were unable to pay rent, a 4.2% improvement when compared to the average of 16.7% the previous month.
Conventional Class-C workforce multifamily housing experienced a striking 18.7% inability to pay rent, and only 3.2% vacancy. Renters in this housing type have consistently been the most impacted by inability to pay throughout the pandemic.
Conventional Class-B housing has reported near 15% inability to pay in both April and May, which would represent the worst two months for this asset type since the pandemic began.
Vacancy rates outside of the City of Portland may be at a historic low based on the data provided in this survey.
Nine or Fewer Units - We received responses representing 97 units from owners with nine or fewer units, compared to 483 in January. This sample showed 14.8% inability to pay, compared to 51.5% last month.  There is high variability in this cohort each month, and we believe non-payment is potentially inflated based on the tendency to respond when conditions worsen.  Each month we receive consistent messages that owners of this asset class have made the decision to sell some or all of their units. 
Additional Data:  This month's respondents were asked to discuss the non-payment situations they were experiencing at their properties.  Here is a sample of responses:
"We have only been able to get declarations of hardship forms from about 35-40% of our residents even after multiple attempts of outreach"
"Two households are not communicating with us, and they are behind 5/6 months. Four are trying to make partial payments and/or are communicating"
"All were paying rent until the LCF plan was introduced. Extending the moratorium is not fair.  We are selling our property…"
"Back owing rent is at a high, with 29 apartments owing around $120K"
"For households who are not paying because they are choosing not to work, I don't believe they should be absolved of their balance owing"
"My single-parent households are unable to work because schools are still closed; unemployment has been unreliable; some are choosing to not pay"
"Non-Payment challenges have gone on since March 2020. Many people, who are still working have chosen not to pay due to the moratorium in place. We have applied for rental assistance funds"
"Non-payment seems to be on the increase this month, we have seen a 53% increase in mid-month delinquency in May"
"We're dying as a business and the government who is supposed to support us is treating us like the enemy. Our building needs updates and repairs but we can't afford them"
"Tenants continue to be leery on providing declarations, therefore we really can't help them get funding"
"We are using Community Services Consortium to help get the rents paid when they have the funding"
Note on Methodology:
The survey asks "How many occupied households were unable to pay full rent by the 15th day of the month?" The survey then adjusts for vacancy to arrive at the true percentage of occupied households that are unable to pay their full rent.
Definitions
Real estate professionals often use categories (A, B, or C) to describe rental properties after considering a combination of factors such as age of the property, location of the property, growth prospects, appreciation, amenities, and rental income. There is no uniform or precise formula for establishing these categories.
Class A - These properties represent the highest quality buildings in their market and area. They are generally newer properties built within the last 15 years with top amenities and demand the highest rent with little or no deferred maintenance issues.
Class B - These properties are close to Class A designation being generally older and typically offer fewer amenities. Rent is typically lower than Class A.
Class C - Class C properties are typically more than 20 years old and are not as well located. Due to a variety of factors, Class C buildings tend to have the lowest rent rates in the Conventional Housing market when compared to Class A and B properties.
Conventional Housing – Market-rate housing with no household income limits, rent limits, or special programmatic requirements in the financing.
Affordable Housing – Government financed housing (Often using Tax Credits or Bonds) that impose initial household income limits and maximum rent limits, all predicated on affordability calculations based on the area median income.
Thank you to every member and participant that took the time to complete the monthly -Surveys that created these important data sets.