Back to Events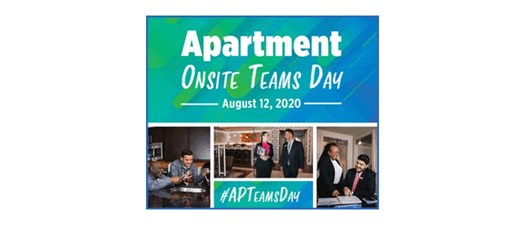 Apartment Onsite Teams Day
#APTeamsDay
Wednesday, August 12, 2020
Event Details
Join us in recognition of our apartment onsite teams on
Wednesday, August 12, for
Apartment Onsite Teams Day!
#APTeamsDay
We will be celebrating the vital rental housing professionals who have kept our rental housing communities together during the COVID-19 crisis. With so many new daily protocols and restrictions being implemented throughout our lives and workplaces, our onsite teams have continued to serve the over 40 million Americans calling apartments home on a daily basis, often going above and beyond the call of duty. In honor of these teams, we would like all our members to participate in our Apartment Onsite Teams Day!

Who can join?
ALL apartment community members, from across the nation, are welcome and strongly encouraged to join us.

Still, wondering how to celebrate #APTeamsDay?

Participants will be provided with logos, ads, flyers, and ideas for gifts like
t-shirts, meals, onsite signage, or gift cards. And when it's all over, send us your photos and videos on Facebook, Twitter, Instagram, even TikTok.

Your toolkit is equipped with many marketing materials to celebrate your vital onsite team members:
Digital ads
T-shirt Artworks

We'd love to see share in your celebration! Upload your pictures and videos on social media, using the official hashtag: #APTeamsDay.
We hope you will join us in celebrating the amazing, hard work of onsite team members. Let's thank them the best way we know how, their vital work is the cornerstone of our industry!