Fall 2019 Apartment Report Breakfast - October 22nd
Date posted
October 22, 2019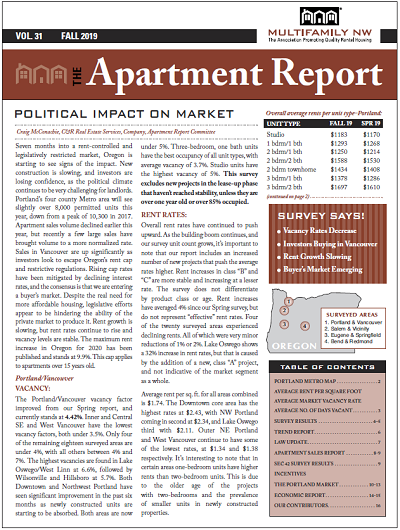 The Fall 2019 Apartment Report debuted to a sold-out ballroom at the Oregon Convention on Tuesday, October 22, 2019. Memorable and our longest running in recent memory, the panelists captivated attendees for over two hours!
The Breakfast's Speaking Panel began with apartment appraiser Mark Barry who detailed highlights of the Fall 2019 Apartment Report rent and vacancy data and market conditions. State of Oregon economist Christian Kaylor updated attendees Oregon's economic forecast and growth. Next, Leah Sykes of Greenspoon Marder translated Portland's FAIR ordinances that will overhaul longstanding best practices for tenant security deposits and resident applications. These new laws are due to take effect on March 1, 2020. The Breakfast concluded with Multifamily NW lobbyist Molly McGrew who broke down the politics behind the 2019 Oregon Legislative Session that brought the first-in-the-nation statewide rent control to Oregon, and Chris Edmonds of Hubbell Communications who explained goals and strategies for the rental housing industry - and to not despair from seeming relentless regulation and assert their experience to educate policy makers. Our engaging master of ceremonies Scott Arena of Income Property Management thoughtfully introduced the panelists and navigated the delicate exercise of soliciting critical funds to fight for just and fair housing policies.
A huge thank you to our Apartment Report Breakfast Sponsors: Capital Property Management Services, HFO Investment Real Estate, Lifetime Exteriors and Northwest Bank! Additionally, we're of course very appreciative to our Apartment Report Breakfast speakers, article writers for the Fall 2019 Report, the Apartment Report Advisory Committee, and every property that completed the Apartment Report Rent & Vacancy Survey!
Multifamily NW members can click the link below to download a copy of the Fall 2019 Apartment Report. Non-members can secure their copy from our e-commerce link below as well. Click here for the Cover Article from the Fall 2019 Apartment Report written by Craig McConachie of C&R Real Estate Services.
Need Continuing Education Credit from attending the Breakfast?
Click here for CE Credit
Fall 2019 Panel
Mark Barry, Barry & Associates
Overview of Fall 2019 Apartment Report Data & Market Conditions
Christian Kaylor, Oregon Office of Economic Analysis
Economic Status and Forecast
Leah Sykes, GreenspoonMarder
Overview of Portland's FAIR ordinances - Applications & Deposits
Molly McGrew, MMc Consultants & Government Affairs
Recap of Oregon's 2019 Legislative Session
Chris Edmonds, Hubbell Communications
Public Relations Strategy for 2020 and Beyond
Emcee: Scott Arena, Income Property Management